VPNSecure.me Smart DNS Review
Payment
Bitcoin, Paypal, CashU, Perfect Money, Payza, Credit Card
Prices
$9.95 / monthly $49.80 / 6 months $79.92 / 12 months
Devices
iPhone, Ipad, Android, Roku, Apple TV, Playstation, Xbox, Browser
Channels
Hulu, Netflix, Pandora, CBS, Colbertreport, Fox, Foxnews, Amazon Instant-Video, NBC, MTV Southparkstudios, TBS, TNT TV, Trutv, Universalsports, Rhapsody, Crackle, MyTV.taiseng, Rdio, Vevo, Spotify, BBC UK, iTV, Channel5, Channel4, Adultswim, ABC, Vudu, Crunchyroll, Afltv, ABC go, HBO go, Slacker, Songza, Beatsmusic, HBOnow, Zattoo, NatGeo TV
Offers
1 Month: $ 9.95
6 Months: $ 49.80
12 Months: $ 79.92
Countries
Ukraine, Sweden, Russia, Great Britain, Costa Rica, Portugal, Sweden, Canada, Luxembourg, Chile, Singapore, Turkey, New Zealand, Ireland, Austria, Panama, Romania, Finland, Hong Kong, United States, France, Australia, India, Egypt, Mexico, Germany, Spain, Netherlands, Japan, Isle of Man, Italy, Switzerland, Iceland
VPNSecure.me is an Australian based company, which was founded back in 2010 and has been building its reputation in the field of VPN ever since. They offer SmartDNS services, as part of their VPN plans. Therefore, they believe in getting as much safety and anonymity as possible online. If you are interested in the quality and reliability of their services, please join us at our VPNSecure.me SmartDNS review.
Features
VPNSecure.me is straightforward and promotes the use of VPN services to all its subscribers. So, you will be encouraged to combine VPN and SmartDNS services in a single, affordable plan. Still, there are servers located in 42 different parts of the world and thus you can rest assured that you unblock a plethora of geographically restricted channels globally.
A thing that we have found quite irritating, though, is the fact that there is no actual separation in the features that are meant to cover the VPN and those that are meant for the SmartDNS. DNS Switcher is a great feature to consider, preventing IP refreshing.
There are many people who cannot tell whether a VPN is a better solution for them than the SmartDNS. If you are among them and cannot decide which features make the most out of unblocking channels and other content, as well as keeping your privacy high, check out the next part of our review about SmartDNS.
SmartDNS
If you are a fan of unblocking channels everywhere in the world, but you do not care about encryption, SmartDNS is the right kind of tool for you. This means that encryption does not apply to SmartDNS services. In other words, if you truly wish to enhance your online security layering and remain protected online, you had better go ahead with using VPN. SmartDNS, on the other hand, is easier to use and setup. It is less expensive than the VPN and it offers full compatibility to devices and Operating Systems. In a few words, the SmartDNS service has flaws and benefits:
Pros
The process of setup and use is easy
You do not have to download software
It costs less than the VPN
It offers incomparable compatibility
Cons
No encryption is involved
No P2P file sharing availability
No enhancement of online security
Pricing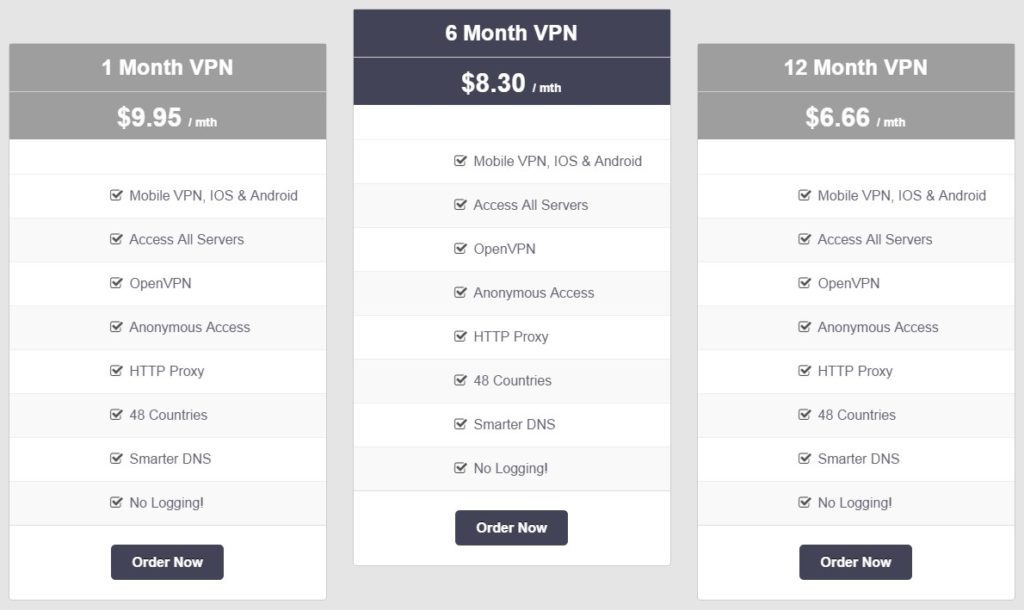 Next stop in our VPNSecure.me SmartDNS review is of course the pricing aspect. It is true that there is no indication whatsoever on their website as to the isolated use of SmartDNS. This can lead to some confusion along the way. After some research, though, we have found out that the monthly cost for using SmartDNS services is $4.95.
This is the average cost and therefore no surprise there! The semi-annual plan is offered at $25.00, while the yearly plan costs $45.00. This is neither affordable, nor expensive! No free trial is offered to the potential customers, which is a shame. No guarantee, either. The only thing that can be done is for you to pay $2.00 in advance and fully test out the VPN and SmartDNS plan, if needed.
Now, the payment methods that are accepted by VPNSecure.me include all the major credit cards, PayPal and Perfect Money, Payza and CashU, as well as Bitcoin. The last method is certainly the anonymous one, which is a great addition to their options.
Online Security
You are strongly encouraged to read through their Terms of Use and Privacy Policy, in order to check out their no logs strategy and find out more about their services. Other than that, the SmartDNS service does not cover encryption – as we have pinpointed earlier in our review.
As a result, you cannot expect to get enhanced online security via SmartDNS. The website is HTTPS protected, though. In addition, with the boost got from VPN you can meet all your requirements and have your online security boosted, too.
Do They Support VPN Too?
They support VPN services, as you may have guessed by their name at VPNSecure.me. In fact, their main market is all around combined VPN and SmartDNS services. As we are going to see just below, there is a complete plan that covers all these services and thus provides great anonymity, ease of use and privacy.
VPN Pricing
In accordance with the previous part of our review, VPN pricing is meant to offer complete coverage in the field of unblocked and encrypted services. The monthly plan for getting everything (meaning both VPN and SmartDNS) is $9.95.
This is not cheap, but with the longer commitments you can expect to decrease the monthly fees. Six-month plan is lowered at $8.30 per month, while the yearly plan is offered at $7.50 per month. The same details apply, as the SmartDNS plans outlined earlier regarding free trial, guarantee and payment methods.
Help & Support
As we go ahead with our VPNSecure.me SmartDNS review, help and support is next on our list. First and foremost, we have to admit that there is a welcoming live chat available 24/7 that can cover most of the requests promptly and efficiently.
Then, there are the software downloads that match the requirements of your own device and OS. Their ticket submission is also strong, addressing your request in as little as 30 minutes. Last but definitely not least, they have got an extensive knowledge base with special information on anything you may need.
Compatibility
VPNSecure.me boasts its great compatibility with all devices and Operating Systems. Desktop Windows, Mac / OSX, Android are just few of the options you get with this service.
Conclusion
Finishing our VPNSecure.me SmartDNS review, it is time we laid out the conclusions we have reached. To be more specific, this is a reliable provider based in Australia and having launched its services more than five years ago. The plans offered are not that affordable, but they are not too high either.
It is irritating that there is no actual free trial provided and no guarantee covering subscribers. The payment methods accepted are more than enough, with the Bitcoin adding to your online anonymity a great deal. DNS Switcher is worth considering.
The help and support department is definitely the highlight of VPNSecure.me, with the live chat getting most of the attention. If they were more straightforward regarding the use of SmartDNS alone and they did not promote VPN and SmartDNS bundles as their main (and most prominent) option, things would be much better.
Go to vpnsecure.me