UnoTelly Smart DNS Review
Countries
Brazil, Costa Rica, South Africa, Mexico, South Africa, United States of America, Canada, Canada, United States of America, New Zealand, United States of America, Ireland, France, United Kingdom, United States of America, Italy, Germany, Egypt, Australia, Australia, Australia, Australia, Israel, Australia, Sweden, Sweden, Australia, Turkey, India, Singapore, Japan, Hong Kong
Devices
Windows XP, Windows Vista, Windows 7, Windows 8, Mac OSX, Linux/Ubuntu, iPad, iPhone, iTouch, Android, Amazon Kindle fire HD, Sonos, Nintendo Wii, Nintendo Wii U, Sony Playstation 3, Sony Playstation 4, Xbox 360, Xbox One, Apple TV, Boxee box, Chromecast, Dynex Blu-Ray Player, Google TV, LG Smart TV, Amazon Fire TV/Fire Stick, LG Smart TV Upgrader box, Now TV box, Panasonic TV, Panasonic Blu-Ray Player, Roku, Samsung TV, Samsung Blu-Ray Player, Sony Bravia TV, Sony Blu-Ray Player, Toshiba TV, Toshiba Blu-Ray Player, Western Digital TV Live, Actiontec R1000H, Apple Airport, Apple AirPort Extreme, Apple Time Capsule, Asus, Asus-DSL, Belkin, Bell 2Wire 2701 Modem, Bell Cellpipe ALU 7130-N Modem, Bell SpeedStream 6520 modem, Buffalo, Cisco/Linksys, DD-WRT, D-Link, Netgear, Siemens Gigaset SE567, TP-Link Router, URoad Home & URoad-9000 WiMax, Nexus player, PS Vita, Windows 10, Nintendo 3DS, Sky TV Box, Apple TV 4th Gen, Android TV
Offers
1 Month: $ 4.95
6 Months: $ 24.95
12 Months: $ 47.95
Payment
Credit Card, Bitcoin
Prices
$4.95 / monthly $24.95/ 6 months $47.95 / 12 months
Specials
14 days 100% Money Back Guarantee
Channels
South Park Studios, Encore Play, ZDF, M-GO, Dallas tnt, Marvel, CBS, BET, Crunchyroll, NRK TV, NCAA, Adult Swim, Direct TV App, TV, Verizon Fios, Sun Dance, Viki, Shine Now, Kankan, AMC TV, Play On, Sky Store, Virgin TV Anywhere, Cartoon Network, TNT, 4Music, 6 play, Brisbane Times, Comedy Central, La1ere France, SportsNet, Star Sports, Nick Jr, France 4, Australian Open, TVCatchup, ABC Family, CTV, Sky Go Italy, 6Play, Spotify, UFC TV, Letv, TV 3 Norway, Youku, CMT, Crackle, Tennis Channel, Tenplay, Comedy Central UK, WETV, Drama Fever, La Voz Mexico, Vidzone, D17, HK TV Mall, Al Jazeera America, ABC iView, Uitzending Gemist, Wa Today, ESPN Play, History, ABC News Australia, Sky Sports UK, Much Music, Sky Go Germany, Sky News, Telemundo, BBC Radio, Netflix, Rdio, HBO GO, Beats Music, Premier League Pass, NRj 12, Sky Sports Italy, KDrama/tv.soompi.com, SMH Australia, STV Player, MyVideo, ESPN Cricinfo, NOS, 8 play, Blockbuster on Demand, Feeln, MLS Soccer Live, The Age TV, TMC, Sony Video Unlimited, PlayTV, Funimation, TV Player, Watch TSN, TV2 Norway, Kids WB, PP TV, Xfinity TV Go, Sport1 Netherlands, Logo TV, HGTV, Lequipe.fr, SRF, Songza, ABC Go, The Onion, BT Sport, Fox Sports Go, US Open, National Geographic, HBO GO Nordic, RTL.be, Viaplay Sweden, Bravo G0, TG4, Oxygen Now, France TV Pluzz, Showtime Anytime, Plus 7, RTBF.be, VH1, Showtime, RTE Player, NHL Game Center, USA Network, Speed, TeenNick, TV 3 New Zealand, Disney Movies Anywhere, Slacker Radio, Filmon, SBS Australia, Starz Play, Tunein UK, Tidal, HitBliss, Watch AFL, Fox, Food Network UK, ORF TV THEK, MTV UK, Vevo, FX Network, My TVB-TVB, Foxtel go, Kanal 5 Play, 3 Play Norway, Food Network US, Tennis channel everywhere, Univision, IHeart Radio, Msnbc, EM-KVAL, France 2, Starz, Yo TV UK, Last FM, BBC Sport, Mundo Fox, ESPN Player, Disney Channel, D8, FYI, ABC News, Animal Planet, Katsomo, TBS, Aol On, Makers, Sky Go UK, Blinkbox music, The CW, A&E, RTS, Travel Channel, TV Land, Ici Tou TV, Jump-in, Rhapsody, TVNZ, Oxygen, Canberra Times, Torque, Watch Sportsnet, TCM, Rai TV, France TV, Red Box Instant, MLS Soccer, Sporza, UK TV, Dishworld, CBBC, South Park Netherlands, Star Wars, Deezer, TF1, TV2, Rtlxl, PBS, Team Coco, Universl Sports, Blinkbox, Absolute Radio, Docurama, Discovery US, Fox Sports Netherlands, Tunein US, Spike TV, WWE Network, Colors India, Epix HD, V QQ, France 3, TV 8 Sweden, Wat TV, DStv Catch up, TV 6 Sweden, NBC, CBS News, Disney XD, Fandor, L'Equipe, City TV, TV Sohu, Showcase, Demand 5, Disney Junior, MLB TV, Disney, Nick Videos, TV2 Play, Xbox Music, Tru TV, The Biography Channel, Bloomberg TV, Zattoo Germany, NPO, Wilmaa, , Sonos, TV Catchup, France 5, Zattoo Spain, Amazon Instant Germany, 4 Play 4oD, S4C, CanalPlay, Sprout, DR DK, Timewarner cable, Areena Yle, Kanal 11 Play, Spotify, NBC Olympics, SkyGO NZ, NFL Now, Rugby Live Sport TV, SVT Player, ITV Player, Amazon Instant UK, Televisa Mexico, Willow tv, Fox Sports Australia, Kanal 9 Play, E4, CBC TV, MOG, CanalPlus, Channel 11, CNN, MTV US, TV 3 Ireland, Watch ESPN, Iqiyi, Pandora, Global TV, Instant Warner Archive, Hulu, Smithsonian Channel, NFL Preseason Live, Amazon Instant US, NFL Gamepass, Watch ESPN Brazil, Gulli, Directtv NFL Sunday Ticket, BeIN Sports, Livestream NRL, Sony Music Unlimited, Fox Sports US, NBA Leaguepass US, NBA Game Time, HBO GO Brazil, Zattoo Switzerland, BeIN Sports Play, NOW TV, CinemaNow, Watch NFL Network, Yahoo Screen, Tudou, Lifetime, ITunes Festival, BBC iPlayer, Grooveshark, 10 Play, 3 Play Sweden, SyFy, UTOPIA, Sina Video, Gaiam TV, PBS Kids, Arte, Xbox Video, Discovery UK, MOG Australia, IFC, Al Jazeera UK, Super Sport, U TV Player, NBC Sports, TVB Go TV, Simpsons World, American Heroes, Fox Soccer 2 Go
UnoTelly is a Canadian company, having launched its services in 2011. There are both SmartDNS and VPN service provided by the company, which is cool and allows flexibility and convenience. In order to fully comprehend the ups and downs of UnoTelly, we have outlined everything below, in our UnoTelly review. Let's see what is going on there, shall we?
Features
UnoTelly offers a plethora of channels worldwide, over 300 in total. This is a wonderful asset for SmartDNS services, as it is in fact the major advantage of having such a service readily in use. With the help of Dynamo, you get to choose the region of a website and this is pretty awesome, if you think of sites like Netflix and the chance to enjoy more than one version. The channels available come from over 30 countries and in 8 major languages, which is another great thing about the service.
If you do not actually know if SmartDNS is for you and if you wish to compare it to the VPN service provider of your choosing, have a look at what SmartDNS is all about.
SmartDNS
With SmartDNS, you do not encrypt your traffic. This basically means that you do not strengthen your online security layering. What encryption does is to encrypt your data and thus allow you to remain anonymous, while surfing the web. On the other hand, lack of encryption leads to faster speed and performance as you unblock websites and enjoy live streaming. SmartDNS is easy to use and does not require any technical knowledge. It is compatible with most devices and OS without any problems. In a nutshell, SmartDNS service offer the following:
Pros
Setup completed in moments
Performance is great, no lack of speed
Cost is lower than VPN
Compatibility with almost all devices and OS
Cons
Encryption is not available
Online security is not boosted
File sharing is not included
Pricing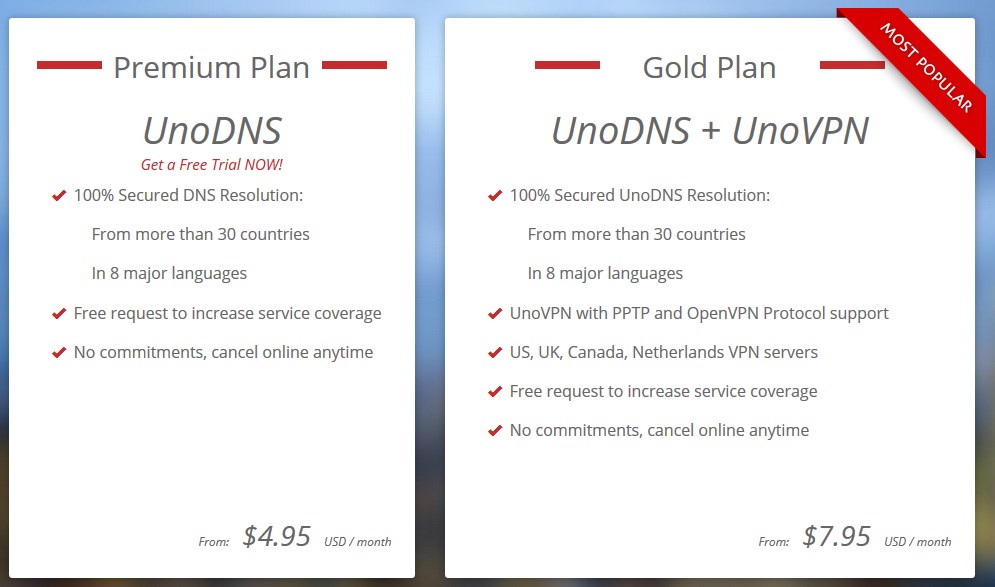 UnoTelly offers a special plan for SmartDNS services only. This plan comes at a monthly cost of $4.95. This is the average price for such services. Other than that, longer commitments will surely lead to better value for money. More specifically, three months are offered at $12.95, six months at $24.95 and a whole year at $47.95.
The yearly plan is the most affordable, of course. As for a free trial, this is available to the potential customers for 8 days. Full money refund guarantee is offered for 7 days, a whole week. Besides all that, you can cancel any time without penalties.
Last but not least, there is the payment method flexibility to examine. Not many options are provided here, but the main alternatives are available. More specifically, you may use American Express, PayPal and Visa. More options would be a great addition, with Bitcoins as an anonymous method to consider adding.

Online Security
As we have clearly stated above, SmartDNS does not involve any sort of encryption. As a result, you cannot expect to get any kind of online security out of this service. So, it is prudent to combine the benefits of a Smart DNS service provider with these of a VPN service provider.
In this way, you can get the protection you need for surfing the web, without lacking any speed or performance in live streaming. Other than that, their website is HTTPS protected and they have got everything laid out in their privacy policy and terms of use.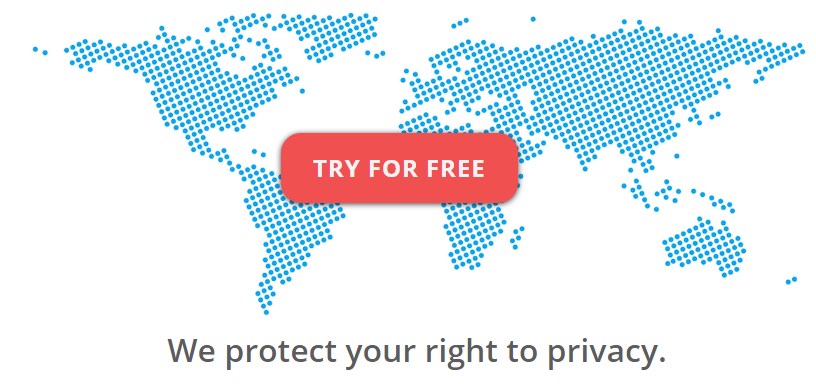 Do They Support VPN Too?
When it comes to UnoTelly, both Smart DNS and VPN services are provided. So, this means that you do not need to search for two different companies and plans to combine. Instead, you can enjoy them both at a reasonable price and combine speed with security and so on. Below, we are going to highlight the cost for such a combination of services.
VPN Pricing
VPN and Smart DNS are referred to as the Gold Plan. For the monthly subscription, you get to pay $7.95 with a 7 day full money refund guarantee and a free trial for 8 days (the same as those offered for the SmartDNS service alone). Three months are available at $19.95, six months at $36.95 and the yearly plan at $59.95. If you compare that to the SmartDNS plan, it is totally worth adding the VPN for just $12 per year.

Help & Support
Live chat is available on the website of UnoTelly and this is really awesome. In this way, you may contact support in a jiffy and have your questions answered without any delay whatsoever. Besides the live chat, there is an informative FAQ section and a blog for you to read through.
Submitting a ticket is another alternative for getting help from UnoTelly, while there are also detailed topics at the help center with guides and other information to consider. All in all, help and support truly do the trick for the company!
Compatibility
As you may have guessed already, UnoTelly SmartDNS is fully compatible with all devices and OS. Find the device you are interested in using at the respective section on their site and read through the setup guide. Piece of cake!
Conclusion
Well, this concludes our UnoTelly review and it is time for us to sum up the best and worst details about the services provided. First of all, this is a well esteemed Canadian company with some years of experience (having launched in 2011). They offer an inexpensive combo of VPN and SmartDNS services, which is the best value for money. Other than that, they offer over 300 channels worldwide and they can be proud about the quality of their support section.
On the other hand, the SmartDNS service plan could be a bit lower in cost, given the Gold Plan on offer. Payment methods could benefit from the addition of Bitcoins and the free trial and refund guarantee could stretch to a whole month. As a whole, UnoTelly provides a worthy option in both SmartDNS and VPN, with the latter being a great addition to the former.
Go to unotelly.com