Unlocator Review
Prices
$4.95 / monthly $27.50 / 6 months $49.95 / 12 months
Specials
7 days trial 14 days money back guarantee
Offers
1 Month: $ 4.95
6 Months: $ 27.50
12 Months: $ 49.95
Payment
DK, Paypal, Credit or Debit Cards
Trial
7 Days Trial version
14 Days Moneyback Guarantee
Devices
PS Vita, Wii U, Vista, Panasonic Smart TV, Boxee, Western Digital, NOW TV Box, Apple TV, Google TV, Xbox 360, Windows 8, iPod, Xbox One, LG Smart TV, Amazon Fire TV, Sony Smart TV, Kindle Fire, Android, Win Phone 8, Playstation 3, iPad, Windows XP, Roku, Phillips Smart TV, Toshiba Smart TV, Ubuntu, Sharp Smart TV, Windows 7, Wii, Playstation 4, OS X, Samsung Smart TV, Chromecast, iPhone
Channels
BBC Sport, France 4, Zattoo Switzerland, DramaFever, CANAL+, Channel 4, History, HBO Nordic, TV 3 Ireland, Amazon Instant Video, Logo TV, MTV, Öppet Arkiv, Yahoo Screen, Disney Anywhere, A&E, NRK, BBC iPlayer, BeIN Sports, Smithsonian Channel, PBS, WWE Network, Demand 5, Disney, Zattoo Germany, UFC, CNBC, TV2 Play, TV3 Norge, France 2, France 3, Epix, Google Play Music, ESPN, Amazon Instant Video UK, Premier League Pass, ABC, Crackle, Starz Play, USA Network, TV3 Danmark, TSN, Danish Region, Showtime Anytime, Brazilian Region, NCAA March Madness, Beats Music, Nick, Swedish Region, Das Erste, ABC Family, Absolute Radio, Dishworld, Yle Areena, City TV, CTV, ITV, HGTV, Fox Soccer 2Go, Marvel, Canadian Region, WE TV, Spike TV, AMC, Hulu, US Region, Amazon Instant Video Germany, Norwegian Region, Lifetime, Irish Region, Sky GO, Zattoo Denmark, NBC, SVT Play, NHL Gamecenter LIVE, TV Player, Oxygen TV, NOW TV, VUDU, Viaplay Norge, Finish Region, US Open, M-GO, UK Region, France Pluzz, Songza, Viaplay Danmark, CBC, Pandora, Danmarks Radio, Military History, MuchMusic, VEVO, France TV, Global TV, NFL Game Pass, TVland, Discovery Channel Canada, Crunchyroll, France 5, MLB.TV, HBO GO, SyFy, Dutch Region, TV4 Play, MLS Live, Disney Channel, Mexican Region, Showtime, TV.com, FranceTVSport, Spotify, TOU.TV, NBC Sports Live Extra, Fox, Zattoo France, Sportsnet, CBS, Max GO, CMT, Universal Sports, Viaplay Sverige, Hulu Plus, Slacker, Disney Junior, Bravo TV, VH1, ZDF
Countries
Mexico, Finland, Ireland, Norway, UK, Denmark, Switzerland, France, Canada, USA, Germany, Middle East, New Zealand, Netherlands, Sweden, Brazil
Unlocator is a SmartDNS company launched a few years back, in 2013. It is of Danish origin and it can take pride in a neat looking website, as well as a plethora of channels to unblock. Let us have a closer look at the various details concerning the service, in our thorough Unlocator review.
Features
There is a wide network of unblocked channels available for you to have your pick from, as soon as you have subscribed to Unlocator SmartDNS service. There are 218 channels in 29 countries to this date and the channels continue on being added as we speak. Among the channels that you can enjoy watching, you will find BBC iPlayer and CNBC, Fox and Hulu, Pandora and Vevo, as well as Netflix in various regions.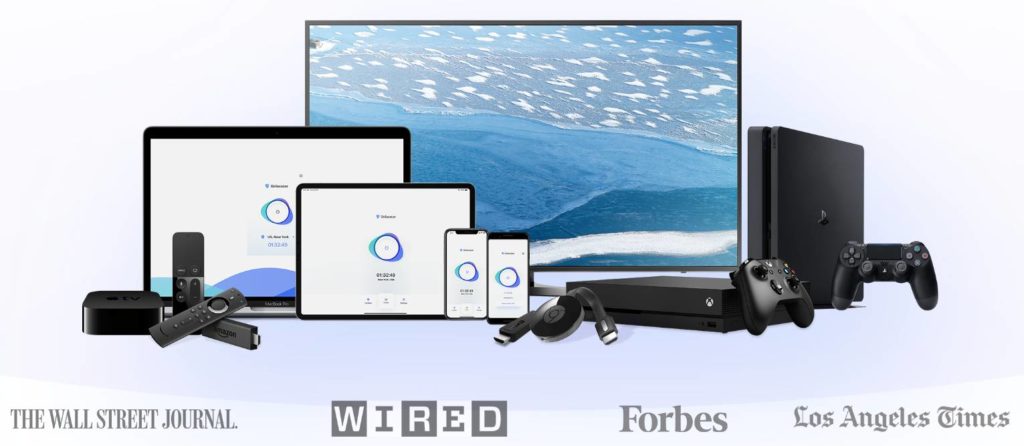 Now, many people wonder if the SmartDNS service is exactly what suits them the most. Are you one of them? If so, read more about the advantages of this method, when compared to the VPN – the most important competitor and alternative used worldwide.
SmartDNS
There is a major dilemma as to whether or not SmartDNS is to be used for unblocking channels or VPN. In the case of SmartDNS, the price rates of subscription are typically lower and the performance quite faster than the VPN. There is great compatibility with all devices and the setup is literally non-existent.
On the other hand, there is no encryption involved in the SmartDNS option. This makes it a less protected means of unblocking channels and sites globally. No file sharing can be done in this scenario, either. So, in a nutshell the pros and cons of SmartDNS include:
Pros
Fast performance
Easy setup
Low price
Great compatibility
Cons
No encryption involved
No security measures while unblocking content
No file sharing option
Pricing
As we have mentioned above, the price rates of SmartDNS services are typically low. In Unlocator, the monthly subscription costs $4.95 and the EU residents will be forced to pay additional VAT charges. A semiannual plan is available at $27.50 and an annual plan at $49.95. As for a free trial, you can count on that.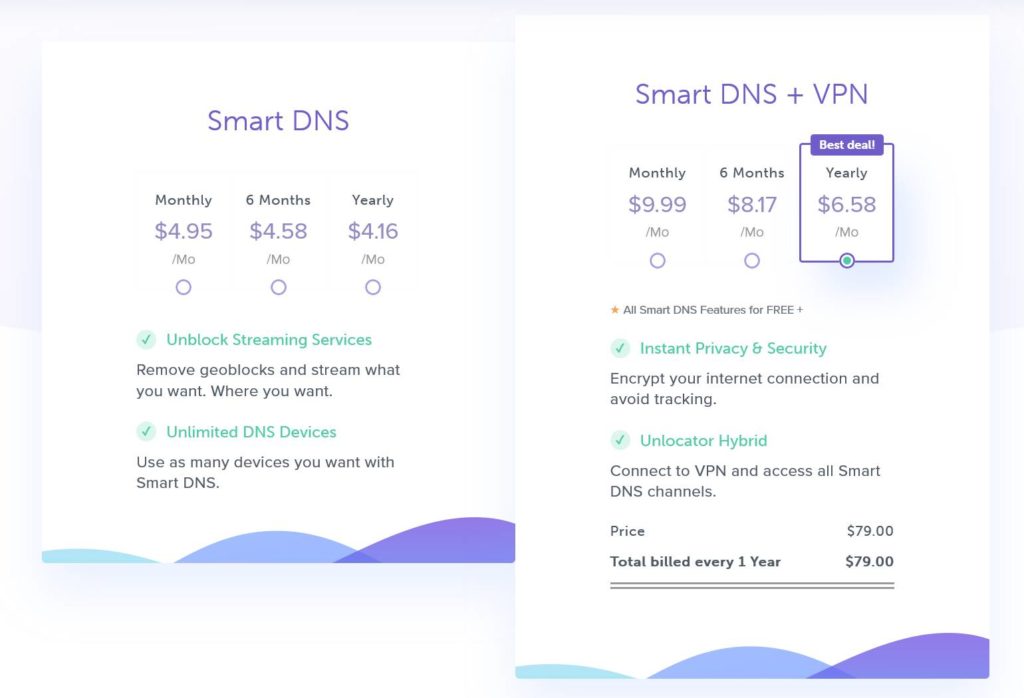 In fact, you may sign up for a whole week gratis. No credit card is necessary for you to do that, which makes things even easier. As for the plans, you can cancel at any time. Great flexibility and convenience offered to the users of Unlocator. Since you can pay for your subscription not only by using credit cards, but also via PayPal and Dankort, there are options that can meet your own requirements – not Bitcoins, though.
Online Security
We have covered the lack of encryption at the section where we compared SmartDNS service with VPN. That being said, there is no actual concern for those who simply need to unblock channels worldwide. If you seek a way to protect your web navigation all the time, you will probably be disappointed by what Unlocator and any other SmartDNS service has got to offer.
However, their site is HTTPS encrypted and you have the option of using a somewhat safer payment method than credit cards (aka PayPal) – so, this should get some points in the online security department! Other than that, they refer to the information they gather and other details at their Privacy Policy and Terms of Use.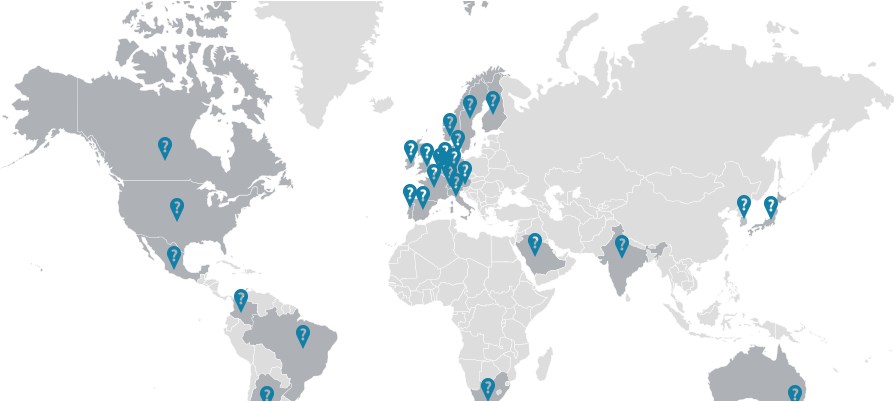 Do They Support VPN Too?
Unlocator does have the option for VPN users to satisfy their own needs, in a way. There is the SmartVPN feature, in case you cannot get what you want from the SmartDNS service. SmartVPN is not the typical VPN service that you would get from a VPN service provider with multiple VPN protocols, strong encryption, file sharing options and such. It can help you out, though, in cases of DNS hijacking or when you are on the go and you still wish to unblock geographically restricted content.
Help & Support
Moving on to the help and support details in our Unlocator review, you can easily navigate through the FAQ section and knowledgebase at their website. A blog is another point of interest, where you can read more about different aspects in the SmartDNS field. Submitting an email is another option that you can turn to, for a better and more straightforward response. Setup guides are provided online, so as to facilitate the whole process of getting used to Unlocator. The only downside we have found in the help department is the lack of live chat or a direct phone number for contacting a representative of Unlocator.

Compatibility
Among the most wonderful things about Unlocator, full compatibility is guaranteed. No matter what device you wish to use Unlocator for, you will be able to do that. For further information on either a single or multiple connections to devices, the setup guides have got everything you need to know. Windows, Ubuntu and OS X Operating Systems are fully compatible, too. A great thing, in order to enable smooth performance and unblocking of channels everywhere.
Conclusion
We have completed our Unlocator DmartDNS review and it is time to wrap up things. Well, this is a reliable SmartDNS service and it can offer a plethora of channels on demand. The price rates are pretty low and there is the extra advantage of SmartVPN feature, if needed. The full compatibility and rich knowledge-base add to the value of the service, while there are detailed setup guides and helpful apps for users to benefit from.
In addition, the free trial is always tempting! On the downside, help and support could use the extra help of live chat or a phone number. You cannot use Bitcoins for paying your subscription, which can be off putting to some. Last, there is always the fear of not getting adequate protection, due to the lack of encryption. Overall, for unblocking content of channels Unlocator can be a truly worthy opponent – with a few improvements, added value is on the way!
Go to unlocator.com