TV When Away Review
Devices
Windows, Mac OS X, Chrome, PlayStation 3, PlayStation 4, PS Vita, XBOX 360, Wii, Wii U, iPhone, iPod, iPad, Android, Samsung Smart TV, LG Smart TV, Panasonic Smart TV, Sony Smart TV
Channels
iPlayer, ITV Hub, All 4, My5, Sky Go, Amazon Prime, Netflix and many more
Specials
100% Money Back Guarantee
Offers
1 Month: ₤ 6.99
6 Months: ₤ 24.99
12 Months: ₤ 39.99
Prices
₤ 6.99 / monthly, ₤ 24.99 / 6 months, ₤ 39.99 / 12 months
TV When Away is a UK based company founded in 2012. The company offers a combination of SmartDNS, VPN and proxy services to its subscribers. However, there might be some confusion as to when each of the services is in use. On their website, they are not so straightforward about how to choose a type of service.
In addition, they mainly focus on the British market and this is why they unblock British geographically restricted sites and channels everywhere. Still, we will set out on our TV When Away SmartDNS review and find out more about it. Let's start reading, shall we?
Features

As we have stated above, TV When Away primarily focuses on the British market. This means that mostly British channels are advertised to be unblocked, such as BBC iPlayer and iTV, My5 and Sky Go.
As you will come to realize as you read through the details about their service, what they offer is a way out to those who wish to enjoy British channels when they are away – on holidays, on business trips, on studies etc. That's about it!
If you are baffled about the differences of SmartDNS and VPN as services, we are here to lay a helping hand. Indeed, you will see that there are things that are similar and others that are miles apart between the two of them. Let's see all about SmartDNS, shall we?
SmartDNS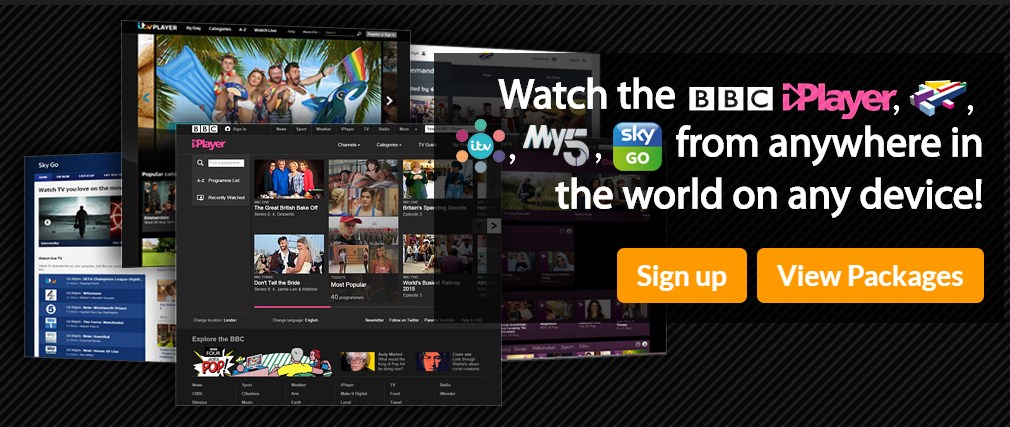 SmartDNS is a service that does not encrypt your traffic. As a result, there is no enhancement in the online security aspect of this service. You only use it to unblock channels that are normally out of reach for you. If you are more concerned about hacking attempts and such, VPN is the one for you.
However, SmartDNS is cheaper and easier to use. It is fully compatible and it does not require any download of software for setting up and configuration. In a nutshell, the pros and cons of SmartDNS are the following:
Pros
It is very easy to use and setup
There is no software download required
It costs less than the VPN
It offers superb compatibility with all devices and Operating Systems
Cons
It does not include any encryption
It does not allow P2P file sharing
It does not boost online security
Pricing
When going ahead with our TV When Away SmartDNS review, it is time to focus on the pricing aspect of the service provided. It is quite irritating that there is no difference in the plans for just SmartDNS users, VPN or Proxy users. Instead, there is a single plan that includes all three options for unblocking geographically restricted sites and channels. This plan is offered at £6.99.
There is a holiday package available for a week at £2.99, which can work as a test drive. The price for the monthly subscription is not low at all. In fact, it is rather expensive. However, the semi-annual plan costs £24.99 and the yearly subscription costs £39.99 – this is the best value for money and of course 100% money back guarantee is included.
Another thing that we have found pretty disappointing is the payment method flexibility. Well, there is none! Only PayPal can be used as a payment option. This is really limiting, not to mention the lack of anonymous methods like Bitcoins.

Online Security
As a SmartDNS service user, you cannot hope for enhanced online security. There is no encryption involved in the process and therefore things are rather simple and blunt. However, you have got the option of using VPN and proxy as well – with VPN adding encryption and online security. Although the site itself is HTTPS protected, there is lack of information in their Privacy Policy and Terms of Use as to the data collected and other security issues.
Do They Support VPN Too?
Well, they support VPN too at TV When Away, with a single plan as described in detail above. No choice of services is available, though. So, you are pretty much forced to buy all three options – VPN, SmartDNS and Proxy.
VPN Pricing
The plan is exactly the same as outlined above. A single plan offered at £6.99 per month, with discounts for longer commitments that can stretch to a whole year at £39.99.
Help & Support
Next, help and support of TV When Away mainly offers an online ticket submission. No live chat or anything, but this is a rather immediate way of contacting support. Of course, you can choose to contact them via mail at their address in Macclesfield.
Other than that, the FAQ section does not include a lot of the questions that are worthy answering – such as privacy issues and so on. In addition, there is no direct mentioning of the SmartDNS services provided. Setup guides for several devices are available, as well as a client area. Last but not least, the social media presence on Facebook and Twitter is quite active.
Compatibility
TV When Away is compatible with all the major devices and Operating Systems on the market.
Conclusion
Now that we have completed our TV When Away SmartDNS review, we are ready to offer our conclusions to you. First of all, it is safe to say that this service is quite expensive. There are many other competitors worldwide that offer more affordable plans and a bigger selection of channels and sites to unblock.
The target group of TV When Away is the UK market and this is perfectly understandable, of course. The payment method is too limiting, offering only PayPal as an option. There is no information as to the different services provided in the FAQ section or at a knowledgebase. The help and support is restrictive, too, even though there is the online support ticket submission to use.
Generally, this is a service that has got fans who only seek to unblock British channels everywhere in the world. For all the rest who want to get a plethora of channels unblocked regardless of location and enhance their online security via the VPN or get the chance to enjoy super-fast and easy services from SmartDNS, there are better options out there!
Go to tvwhenaway.co.uk