TrickByte Review
Prices
$2.99 / monthly $16.49 / 6 months $49.92 / 12 months
Specials
14 days free trial
Offers
1 Month: $ 2.99
6 Months: $ 16.49
12 Months: $ 29.99
Payment
Credit Card, Paypal
Devices
LG TV/BD, Wii U, PS3-4, Browser, iPhone, Apple TV, Fire TV, Wii, Roku, iPad, Kindle Fire, Xbox360-One, Samsung TV/BD, Android
Channels
France 3, France 2, Vudu, Watch ABC, 4oD, foxsoccer2go, Amazon Instant Video, France 4, Pandora, History, MTV, Tv Player, HBO GO, RTL XL, Zatoo, nationalgeographic, Food, Rdio, CBS, Spotify, The CW, Showtime, RTL Now, Crunchyroll, France TV Pluzz, 4Play, Songza, NBC, Wuaki TV, BBC Player, Syfy, Hulu, ZDF, Show Case, A&E, Crackle, Fox, Discovery, PBS Video, Vevo, bein Sport, Dishworld, France 5, UFC.TV, Sky Go, Star Sports, Network WW, amctv, Now TV, SVT, CBC Canada, Rhapsody, EuroSport Player, HG TV, France Televisions, Netflix, Demand 5
Countries
India, Brazil, Mena, UK, Germany, Netherlands, France, Sweden, Canada, USA
TrickByte is a company based in Thailand, having launched its services not too long ago, in 2013. There is a combination of VPN and SmartDNS services included in the plans offered by the company, making it a convenient way to unblock restricted content and make sure that everything runs smoothly online. Let's have a proper look at what they are all about, via our TrickByte review.
Features
There are over 60 channels unblocked for the users of TrickByte to enjoy. Of course, other SmartDNS service providers boast a quite bigger list than that, with over 200 channels. Still, there is diversity and quality in the channels unblocked – including Netflix and Hulu, BBC iPlayer and ITV, Amazon Instant Video, ABC etc.
Many people have been wondering what the exact differences of SmartDNS and VPN are. This is fundamental, if you wish to have a complete vision of the choices available to you. So, let's find out more about SmartDNS.
SmartDNS
SmartDNS is a service that does not include encryption. As a result, there is no thorough protection as in the case of VPN. Still, there are advantages to the lack of encryption. Live streaming does not deteriorate due to the encryption and thus you can watch anything you want online, without worrying about the loss of speed and performance quality.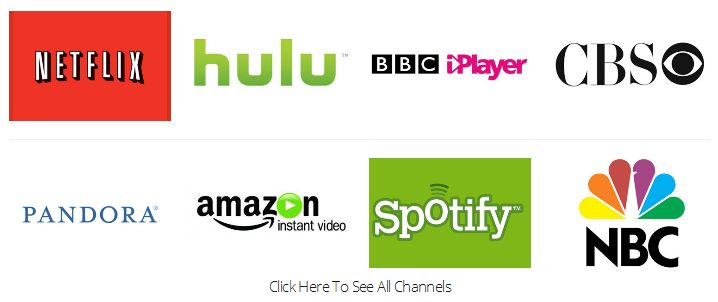 In addition, SmartDNS services are fully compatible with all OS and devices. Even better, the setup process is really easy and you can expect to start enjoying great unblocked content within minutes. In a nutshell, the advantages and disadvantages of SmartDNS are the following:
Pros
Easy setup, no tech knowledge required
No lack of speed and performance problems
Less pricey than VPN
Full compatibility with all devices and Operating Systems
Cons
No encryption as you surf the web
No online security impact
No file sharing options for users
Pricing
For SmartDNS services, there is a really affordable plan to consider. Besides the 14-day free trial that does not require any commitment and does not have to be completed with the use of a credit card, things are pretty simple. A whole month costs $2.99, which is significantly less than the average cost of $4.95.

Six months will cost you $16.49 and a whole year is available at $29.99. The price is definitely low and therefore you get great value for money in this case. TrickByte has made the most out of affordability for SmartDNS users, to say the least.
As for the acceptable payment methods for the subscriptions after the free trial, TrickByte includes MasterCard, Visa and American Express, as well as PayPal. No Bitcoins can be used, which is a pity. Finally, we have to admit that there is no refund clearly stated at their terms of use.
Still, with the generous free trial and the low monthly subscription, it is only fair that you understand whether or not this service is good for you. Cancel anytime, of course, is available.
Online Security
If you get to choose the SmartDNS service plan from TrickByte, you cannot expect to get any type of encryption. This means that you are not fully protected, as you surf the web and visit all other websites. Other than that, at their Privacy Policy they are straightforward about the information that they may collect.
Moreover, there are details as to how such information can be used. We would feel better with a no logs policy, but it is understandable that there are restrictions and laws they need to comply with.
Do They Support VPN Too?
At TrickByte, they also support VPN services. This is great, as they understand the different needs of customers seeking speed and privacy at the same time. However, they could offer just VPN services to those who need that. There is no such option available.
VPN Pricing
If you want to combine the benefits of SmartDNS and VPN, you get a 3-day free trial and then you have the chance to upgrade to a monthly subscription of $6.99. Given the fact that just SmartDNS costs $2.99, it is a fair price. Six months are available at $35.99, while the yearly subscription costs $49.99. Of course, the annual plan is the best value for money. Same payment methods apply as the SmartDNS option.
Help & Support
Next on our TrickByte review is the help and support aspect. If you want to contact support, there are various options available for you. Lack of live chat makes things less direct and immediate, though. Still, you can submit a ticket or send them an email.
They claim to answer within 24 hours, although we have checked them out and they reply in a few hours – even less time than they claim. Other than that, there is the regular mail (which is not something that most clients would go for) and of course the rich knowledgebase. This is where all your answers can be answered, with just a bit of reading.
Compatibility

TrickByte is compatible with all Operating Systems and devices, which is truly wonderful and one of the best advantages in using a SmartDNS service provider. So, you can benefit from the affordable plans of TrickByte on your device using Windows, Mac OS, Smart TVs, Xbox One and 360, PS3 and PS4, just to name a few of your alternatives. No problem with the setup and performance, in any case!
Conclusion
Wrapping up our TrickByte review, it is time to conclude as to its value, its strengths and weaknesses. First and foremost, this is a greatly affordable SmartDNS service, only costing $2.99 per month. Then, there is the option of adding VPN services to the plan and having a combo of the two methods for unblocking content online.
The help and support is really great, although there could be some improvements with the addition of live chat. Free trial is generous and there really is no need for a full money refund policy (which they do not include). More channels could be added for the SmartDNS service, in order to beat competition.
Nevertheless, the major setback for TrickByte is the information that they may collect at times. If you are cool with that, this is a superb service in the global market!
Go to trickbyte.com