StrongDNS Review
Devices
Windows, Mac, Ubuntu, Chrome OS, Content, Devices, AppleTV, Roku, Google TV, Boxee, WD TV Live, Android, iPhone, iPad, iPod, Amazon Kindle, XBOX 360, PS3, PS4, PSVita, Wii, WiiU, Smart TVs, LG, Sony, Sony Players, Samsung, Panasonic Viera, Routers, D-Link, Netgear, Linksys, Bell Cellpipe, 2wire, TP-Link, Sabai, DD-WRT
Countries
Germany, France, Great Britain, Hong Kong, Italy, Japan, Canada, Latvia, Luxembourg, Malaysia, Netherlands, Norway, Romania, Russia, Sweden, Switzerland, Singapore, Turkey, USA
Channels
NBC, MTV, BBC, Channel 4, ITV, ABC News, TV.com, NBC Olympics, Globalnews.ca, CMT, CBS, ABC, MTV, Rhapsody, Rdio, vevo, Spotify, ITV, Pandora, ABC Family, VH1, Blinkbox, Slacker.com, iHeartRadio, Absolute Radio, Songza, Radio.com, 4Music, Blinkbox Music, Beats Music, Disney Junior, The Disney Channel, ZUUS, Playlist, CMT, Hulu, Netflix, Amazon, theWB, MTV, South Park Studios, TNT, Crackle, CinemaNow, Channel 4, ITV, PBS KIDS, LOVEFiLM, CWTV, MAX GO, Spike.com, Muchmusic, Fandor.com, M-GO, CTV, dramafever.com, Showtime Anytime, FX, KDrama, OnDemandKorea.com, Marvel, Kaleidescape, Soompi TV, STARZ, Disney XD, NOW TV, Disney XD, Cartoon Network, Zattoo and more
Offers
1 Month: $ 5.00
6 Months: $ 30.00
12 Months: $ 50.04
Trial
7 Day Money Back Guarantee
Prices
$ 5.00 / monthly, $ 30.00 / 6 months, $ 50.04 / 12 months
Specials
7 Day Money Back Guarantee
Payment
Credit Card, Paypal
StrongDNS is a company that was launched in 2013, but with many years of experience in similar fields – ever since 1994. Their main location is in San Francisco, but they do have offices in Miami, New York and Washington DC as well. They are under the umbrella of Strongvpn.com / Reliablehosting.com and therefore they are reliable as a company. However, will they live up to the task of SmartDNS services? Let's find out in our Strong SmartDNS review!
Features
Since they come a long way since 1994, it is only fair that we give them the credit of a long lasting SmartDNS service provider. Still, they are pretty new in the business of specific plans provided and perhaps this can be a problem. What we have found to be rather disturbing is the fact that the plans are meant to serve just one IP address.
This means that you cannot use the same account in let's say your work and home. Other than that, there is a plethora of unblocked channels and sites waiting for you – with over 500 servers helping you out.
Are you unaware of the differences that apply in VPN and SmartDNS? Do you want to clear things out and then choose the service that does it for you? Well, if this is the case, check out the next section of our review.

SmartDNS
When you choose to use SmartDNS, you instantly give up on extra encryption. This is the key element that allows you to surf the web anonymously and not worry about any hacking attempts and identity thefts whatsoever. So, it is only fair to say that those who are truly concerned about online security had better go ahead with using VPN.
On the other hand, now, SmartDNS is really easy to use and it generally costs lower than the VPN. In fact, it is fully compatible and it does not deteriorate the performance and speed of your Internet connection at all. So, wrapping things up, SmartDNS has got the following pros and cons:
Pros
Easy setup and use
No speed loss due to encryption
Less expensive than VPNs
Full compatibility with devices
Cons
No encryption whatsoever
No P2P file sharing
No online security boost due to encryption
Pricing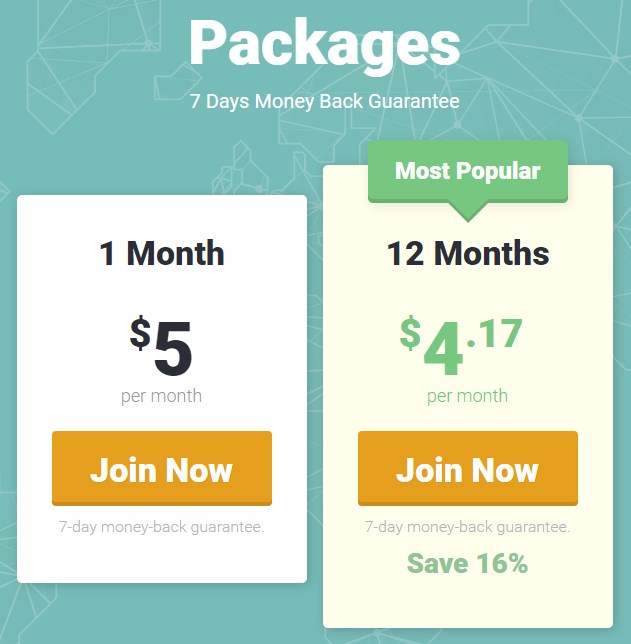 One of the most important things to consider is indisputably the pricing of Strong SmartDNS. In fact, we have come to find out that the monthly subscription costs $5 and there is a 5-day money-back guarantee. The cost is pretty much the average for similar services, whereas the money refund guarantee could be a bit lengthier.
12 months are offered at $4.17 per month. This is neither high nor low as a price. No free trial is directly provided on the website, which is too bad. Although they do encourage you to try their service for free, you get redirected to their monthly or yearly subscription. Confusing.
In terms of payment options accepted by StrongDNS, there are all the major credit cards including Visa, MasterCard, Discover and American Express. In addition, there is the option of PayPal. No Bitcoins are accepted, sadly.
Online Security
You already know that SmartDNS does not allow any online security enhancement. Apart from that, the site is HTTPS protected. One of the important discoveries that we have made, though, is the fact that no actual Privacy Policy is clearly outlined at their SmartDNS site.
Instead, you have to get redirected to their VPN site and read all about the information that might be collected and so on. This is certainly not the best thing, especially when you want to highlight security and anonymity online.
Do They Support VPN Too?
It is true that Strong VPN is the primary option, with more years of experience and thus greater reliability. So, the company from the US does support VPN too. In fact, perhaps it is their top priority as to the services provided. Still, there are different sites you have to turn to for getting either one of these two services.
VPN Pricing
If you are interested in their VPN pricing, you have to know that this is not the least expensive option we have found on the market. To be more specific, they offer a whole month at $10 and this is in fact not affordable. However, they do have a generous discount at their yearly plan and this is provided at $4.99 per month. Same rules apply as to the full money refund guarantee (just 5 days) and the payment methods accepted.
Help & Support
It is true that the help and support department of Strong SmartDNS is one of the aspects that we have found satisfactory. This is primarily due to the fact that there is live chat available for you to benefit from. When you want support from the site, you get redirected to reliable hosting's site and there you have a plethora of languages and topics in detail. The FAQ on the StrongDNS site, though, is pretty thin. Setup guides are available, fortunately. Last, social media presence has been growing strong.
Compatibility
It goes without even saying that SmartDNS services offer full compatibility with all (or almost all) devices and Operating Systems. StrongDNS is no exception to this rule, as you can see here.
Conclusion
In the end of our Strong SmartDNS review, it is time to wrap things up. First and foremost, it is true that this is no affordable solution, whether you want to use SmartDNS or VPN services. Next, there is only a 5-day window for full money refund guarantee (with ample payment methods accepted, fortunately).
Free trial is also confusing, since it is not outlined clearly. There are some problems with the Privacy Policy, given the fact that you have to get redirected to their main site for getting all the info you need. The live chat is definitely a plus and there are setup guides for all the devices, routers, OS and such. Although this is a VPN and SmartDNS service company, we would prefer the former.
Go to strongdns.com