Simple Telly Smart DNS Review
Devices
Xbox One, Windows Phone, Asus, TP-Link, MikroTik Router, iPod, Sony Smart TV, Kindle Fire, Linux, iPhone, Android, Chromecast, Roku, Xbox 360, Sony PS Vita, DD-WRT, DD-WRT, WDTV, Sony PS3, Humax Freesat, Windows 7, Apple TV, Mikrotik, Mac OSX, Amazon FireTV Stick, Samsung Smart TV, Sony PS4, iPad, Windows 8
Channels
Hulu, Amazon, Vudu, Crackle, Fox, CBS , NBC, ABC, WWE Network, The CW, PBS, Nickelodeon, Cartoon Network, Disney Channel, PBS Kids, MTV, CMT, Pandora, Vevo, Rhapsody, Spotify, Amazon Music, Sky Go, NowTV, BBC iPlayer, My5, All4, Sainsbury's Entertainment, Blinkbox, Wuaki.TV, BT Sport, Seven, Nine, Ten, ABC, SBS, TF1, France 2, France 3, France 4, France 5, WAT, beIN Sports, Canal Play, TG4, RTE Player, AER TV, TV3, Viaplay, Premier League Pass, CTV, CBC, Global TV, ITV Player, STV Player, BBC Sport, S4C, Disney XD, Disney Junior, History Channel, Watch ESPN, Lifetime, Amazon UK, HBO GO, FX Network, AMC TV, Zattoo, Xfinity, Viki, Tidal HiFi, SlingTV, NHL TV, NBA, MLB, KlowdTV, Fubo.tv, Fox Sports, Fox Soccer2Go, DramaFever, DirectTV, CrunchyRoll, 6Play, NBCSports, Playstation Video, MGO, HBO NOW, Bravo TV, Oxygen, Southpark, SkyNews, Smithsonian Channel, L'Equipe21, SportsNet World, Premier Player, MyCanal, MLS, Discovery, Animal Planet, TV Player, truTV, Eurosport, Golf Channel, USA Network, Arte, Funimation, YouTube, Prosieben, Virgin Media, Foxtel Go, Showcase Canada, Dish Anywhere, iHeart Radio, Horizon Go, DSTV Now, Supersport, TSN Go, Crave TV, CTV Go, British Columbia's Knowledge Network, Bell Fibe, TMN GO, Shudder, Shomi, Encore, Max Go, TWC TV, FAN PASS powered by Sky Sports, National Geographic, Mediaset, Laola1, Love Nature, Genflix, Tune.TV, Astro, Comedy Central, Disney Life UK, iBox, ShowMax, RSI.ch, Showtime Anytime, A & E, Starz, Livestream, Canvas, UKTV Play, HKTV Mall, MyTVB, GoTVB, Stan., MTV Katsomo, Star Sports, BeinSport Middle East, CityTV, Dailymotion, E!, Esquire, Eurosport France, First Media, Flixster, Food Network, HGTV, Nico Nico, Pluto TV, RAI.it, Rogers, Sky Go New Zealand, Syfy, Travel Channel, TV3 New Zealand, TV New Zealand, USeeTV, Vimeo, Viu.TV, Discovery Channel (Canada), tonton, ICI Tou.tv, CinemaNow, NRK, SVT Play, ToView, Hayu, AETV, ConTV, 11Sports Network, Go90, HBO Nordic, Magine TV, OSNPlay, TuneIn, TV Spielfilm, AT&T U-verse, ORF TVThek, yle Areena, ATRES PLAYER, Showtime, ABC News (America), CBS Sports, NFL, Fox Sports Now, SonySix, TV 2 Sporten, Play SRF, DR TV, Toggle, QuickFlix, Hotstar, Al Jazeera, Molotov TV, Sport TV2, Asian Crush, Presto, Wilmaa TV, OCS, TVCatchup, Zouzous, GloboPlay, Documentary Depot, Go by OSN, Tata Sky, Swisscom, icflix, Starzplay, Stievie, ARD Mediathek, TV Sport 1, CNN Go, SFR TV, Filmstruck, Direct Now
Countries
Argentina, Australia, Brazil, Canada, Denmark, France, Germany, Ireland, New Zealand, Norway, Sweden, USA, UK
Offers
1 Month: $ 4.00
6 Months: $ 10.00
12 Months: $ 30.00
Prices
$4.00 / monthly, $10.00 / 6 months, $30.00 / 12 months
Payment
PayPal, Credit Card, Payza, Bitcoin
Specials
14 Day Free Trial
Simple Telly SmartDNS is located in Hong Kong, overcoming the strict legislation of countries such as the United States or places in Europe. Having that in mind, they offer a simple plan that unblocks a plethora of channels without any complex alternatives. Even though they are concerned about live streaming and unblocking of GEO-IP restricted content, they do not offer a VPN plan. Let's find out more in our Simple Telly SmartDNS review.
Features
Simple Telly truly provides a simple way of unblocking channels. There are multiple locations where channels have been unblocked (including the US, Canada, France, Australia and others). You get all the popular channels like Netflix and Hulu, Crackle and Amazon Instant Video, NBC and Fox etc. There is full compatibility with any device you may wish to use, as we are going to see later on at the respective section of our review.
There is a misunderstanding by many people as to what a SmartDNS service means and what the differences are between the DNS and the VPN option. If you are amongst these people, do not worry; we have outlined what SmartDNS is here. So, read on and find out whether or not this is the best option for you.
SmartDNS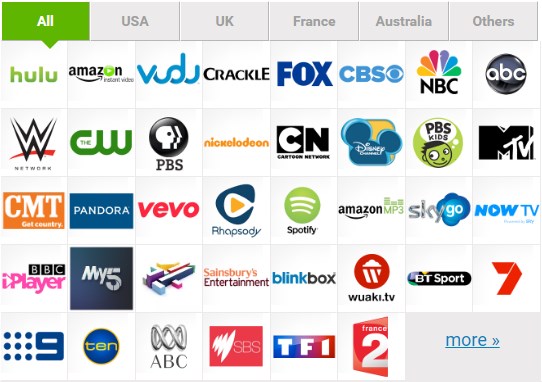 SmartDNS is all about unblocking channels, without messing with any encryption. Not all your traffic gets rerouted and therefore you do not get the maximum security layering that encryption provides. In other words, you simply use SmartDNS for its ability to unblock the channels that you want.
That being said, it is very easy to setup and use. It is super affordable and it does not require any technical knowledge on your behalf. If you are not interested in file sharing options and strengthening your web surfing protection, you are good with SmartDNS. In a nutshell, its weaknesses and strengths are as follows:
Pros
The SmartDNS is easy to setup and use
No download is required
There is great value for money
It works on any device and Operating System
Cons
No encryption is included
No file sharing is supported
Online security is not affected in any way by SmartDNS
Pricing
Once you visit Simple Telly SmartDNS site, you are prompted to start your free trial for two whole weeks. This is great, but there is no indication whatsoever as to the cost of the subscription afterwards. However, if you get past that and you complete the free trial, you will find that the cost is great.
For the monthly subscription, you get to pay $4.00. The three months' subscription is offered at $10.00 and the yearly subscription is provided at $30.00. You can cancel the subscription any time, but there is no money refund guarantee given by the company. So, you should think twice before actually going ahead with your longer commitment's subscription.
Primary accepted payment methods are no surprise, with credit cards (Visa and MasterCard) and PayPal gathering most attention. Still, if you are interested in using something else (such as Bitcoin), you can do that with the help of the support from Simple Telly.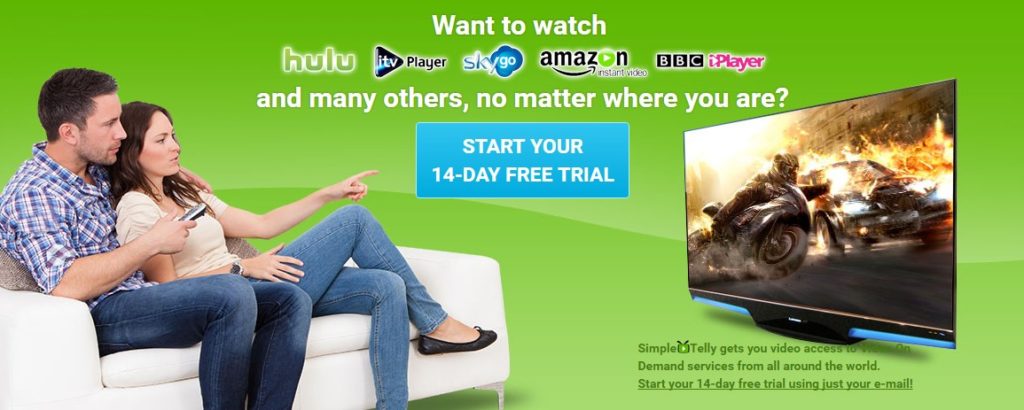 Online Security
As a SmartDNS service provider, you cannot expect to get any online security enhancement with the use of Simple Telly. Nevertheless, you can add security by using Paymentwall for secure payment. The site is HTTPS protected and the location of the company is pretty privileged.
No strict legislation or DMCA ought to be complied with, so there is substantial flexibility in the freedom offered online. If you are interested in the information that might be collected, have a look at the Terms of Use and Privacy Policy on their website.
Do They Support VPN Too?
Sadly, Simple Telly SmartDNS does not have any option of VPN. As they claim, VPN is not practical when it comes to unblocking channels and streaming content. So, for watching TV there is no point in using VPN. As a consequence, you cannot get any VPN, even as an add-on, when you subscribe to Simple Telly.
VPN Pricing
As you can understand, there is no information as to the VPN pricing – there is no such plan available on behalf of Simple Telly.
Help & Support
We move forward with the next part of our Simple Telly SmartDNS review and this is none other than the help and support. There is no live chat available from their website, which is understandable – not many other companies in the same field offer such an alternative, anyway.
You may, however, submit a ticket and get a response without any delay. There is an informative knowledge base with FAQ and of course tutorials with supported devices and services. A blog completes the options you get for help and support, apart from the social media presence. Overall, you can depend on getting pretty prompt answers to your questions with the ticket and great knowledge from the FAQs.
Compatibility
We have already highlighted the fact that one of the major advantages of using SmartDNS is their exceptional compatibility. Simple Telly can be used on literally anything, from Windows to Mac, Android to iOS, PS3 to xBox, Roku, Apple TV and any router.

Conclusion
At the end of our Simple Telly SmartDNS review, we can conclude as to the pros and cons that this service offers. First things first, this is a pretty affordable service plan (especially the longer commitments) and a generous free trial of a whole fortnight. There is great compatibility, even with every single router you may have. You can use Simple Telly pretty easily, without any technical requirements and other complicated stuff.
The help and support is limited, but qualitative. On the downside, no full money refund guarantee is offered and there are only certain payment methods accepted on the site. No VPN is supported, which can be really irritating to some. Its main advantage, though, is the location of the company in Hong Kong. If you do not have great expectations security-wise, this can be a solid plan to consider.
Go to simpletelly.com