Le VPN Smart DNS Review
Devices
Windows, Mac, Linux, iOS, Androids, PS3, PS4, Wii, Xbox 360, Apple TV, Samsung Smart TV, Sony Smart TV, LG Smart TV, Panasonic Smart TV, Routers
Channels
Hulu, ABC, CBS, NBC, ABC News, Amazon Instant Video, Comedy Central, Hulu Plus, South Park Studios, BBC, BBC iPlayer, CBBC, itv, 4Music, Heat, Smashhits, Kiss, Magic, M6, 6Play, Styles, Stories, Crazy Kitchen, pluzz.fr and many more
Payment
Credit Card, Bitcoin, Paypal, CashU, Diners Club, Openbucks, Qiwi Wallet, Boleto, JC, Oxxo, OneCard, Yandex Money
Offers
1 Month: $ 9.95
6 Months: $ 45.00
12 Months: $ 90.00
Prices
$ 9.95 / monthly, $45.00 / 6 months, $90.00 / 12 months
Trial
7 Day Money Back Guarantee
Specials
Global VPN provider with SmartDNS option
7 Day Money Back Guarantee
Le VPN is a company in operation since 2010, with a recent addition of SmartDNS services. Due to the fact that there is no background in using SmartDNS, you had better think twice before subscribing to such a plan of theirs. If, however, VPN is another feature you are interested in, Le VPN will do you justice. Let' find out more about this is service in our Le VPN SmartDNS review, shall we?
Features
With Le VPN SmartDNS, you may unblock a plethora of British, US and French channels in a heartbeat. There is no configuration required on your behalf, while you can expect no speed loss throughout your live streaming. Netflix and Hulu, ABC and BBC iPlayer, ITV and TF1 are just few of the channels you can unblock with Le VPN. There is full compatibility even on your Smart TV, as you will check out at the respective section of our review.

SmartDNS is similar to VPN, but it is not the same service. So, if you do not exactly what know which the benefits and the drawbacks are for each service, read on and find out more details about SmartDNS.
SmartDNS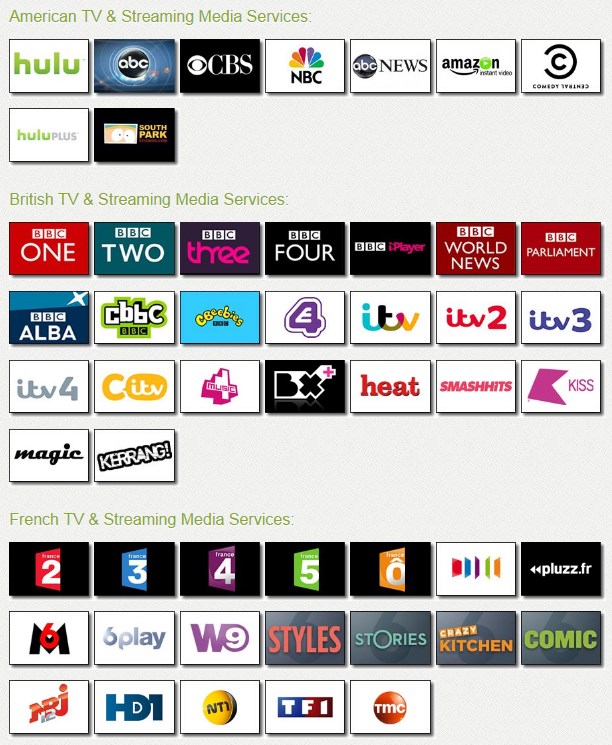 When you get to use SmartDNS, you unblock a plethora of channels that would otherwise be out of reach for you. However, this does not happen with the use of encryption. On the contrary, only the traffic needed is rerouted and therefore you cannot hope to get an added sense of online security.
Even though this might be a drawback (along with the added bonus of P2P file sharing), there are some advantages in SmartDNS, too. For example, SmartDNS is easy to use and it is inexpensive. It is also compatible with every device and Operating System and it offers great performance. Wrapping things up:
Pros
Easy setup and use
No software download required
The cost is low, combined to VPN
It is fully compatible with devices and OS
Cons
No encryption included in the process
No P2P file sharing
No online security enhancement
Pricing
One of the most important sections in our Le VPN SmartDNS is indisputably the pricing. Indeed, the cost of the monthly subscription for SmartDNS is €9.95 and this is definitely not low. On the contrary, the cost is pretty high. However, this is the same as the combined plan for both VPN and SmartDNS.
So, if you are only interested in using SmartDNS services, this is not the best scenario for you. The semi-annual plan is offered at $44.99 and the yearly plan will cost you $59.40. There is a 7-day full money refund guarantee available. No free trial is provided, though.
As for the payment methods that you can use via Le VPN, you can use credit cards, PayPal and Bitcoin. Especially the Bitcoin is the absolutely anonymous payment method and so we welcome this possibility.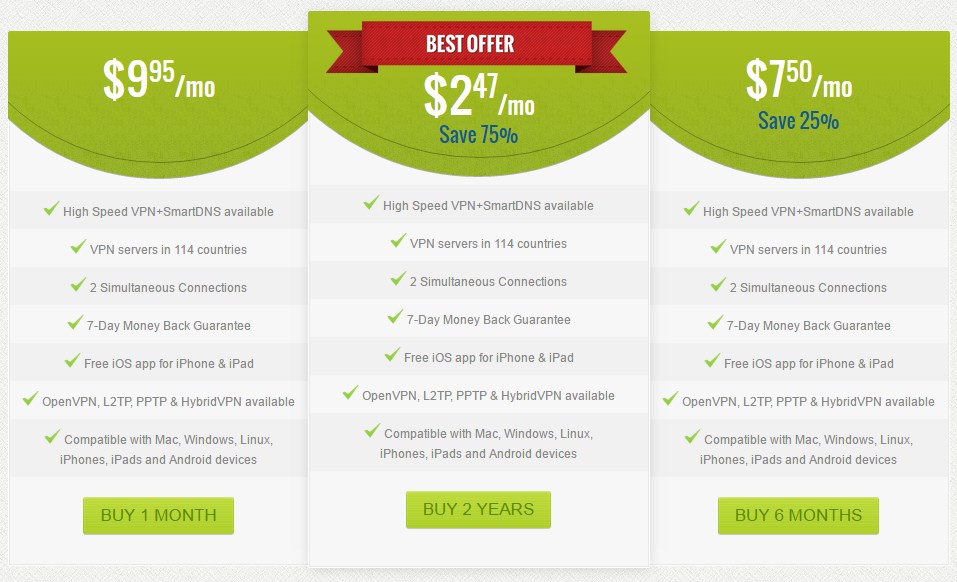 Online Security
SmartDNS is not a feature that enhances online security. In other words, if you are concerned about online security, you had better go ahead with using the VPN. Apart from that, the website of Le VPN (although it is sort of confusing to some) is HTTPS protected and it is verified by GeoTrust VTNV Solution, as well as McAffee secured. In terms of privacy and anonymity, there are great details outlined at their Terms of Use and Privacy Policy.
Do They Support VPN Too?
As their name suggests, Le VPN is all about VPN. They offer VPN services as their backbone and there is SmartDNS service as an added bonus for you. So, they support VPN too and in fact this is their specialty at Le VPN.
VPN Pricing
The plan for combined VPN and SmartDNS service is offered by Le VPN at $9.95 per month. The six months are provided at $7.50 per month or else $44.99 and the yearly plan will cost you $4.95 per month or $59.40. The same terms apply in the field of money refund guarantee and payment methods.

Help & Support
Moving on with our review, there is the help and support department for you to consider. There are quite a few options for you to have your pick from, even though there is no live chat available to benefit from. You can submit a ticket and get an answer as soon as possible (we have tested the support and the feedback has been prompt and helpful).
The knowledgebase includes all the frequently asked questions and other topics, making your use of Le VPN as smooth as possible. At the quick start, there are setup details for all devices and OS. This is great, to say the least. Social media presence is quite active, too. If the website had been more practical to navigate, this section would be perfect.
Compatibility
Le VPN SmartDNS boasts its full compatibility with all devices and OS options available in the market. You can use their services on Windows and Android, iOS devices and Mac OS X, Linux and a lot more choices.
Conclusion
At the end of our Le VPN SmartDNS review, there are both pros and cons available to highlight. First of all, the price is too high and therefore it is not a practical and affordable option for SmartDNS services alone. $9.95 is way over the average cost of SmartDNS market.
However, there is great compatibility and the full money refund guarantee will welcome all subscribers. Payment methods are also great, including the anonymous option of Bitcoins. The help and support is quite flexible, with the complicated website being the only downside in this department (and maybe the lack of live chat).
The setup guides will make things much better for you, facilitating your work. As a whole, it is worth using Le VPN for the combined services of VPN and SmartDNS. The cost is the same as the singular plan for SmartDNS and definitely offers more features and a better overall security layering online.
Go to le-vpn.com