IronSocket Smart DNS Review
Prices
$6.99 / monthly $35.95 / 6 months $49.95 / 12 months
Offers
1 Month: $ 6.99
6 Months: $ 35.95
12 Months: $ 49.95
Payment
Credit Card, Gift Card, Bitcoin, Paypal
Trial
7 Days Moneyback Guarantee
Devices
Boxee, PS Vita, PlayStation 3, Apple TV, iPod, Amazon Fire TV, iPad, Wii U, LG Smart TV / Blu-ray Player, PlayStation 4, Windows 8, Sony Internet TV / Blu-ray Player, Windows Vista, Android, Wii, Routers, Windows XP, Roku, Mac OSX, Google TV, iPhone, Xbox 360, Xbox One, Samsung Smart TV, Windows 7
Channels
NRJ 12, VOX NOW, Pandora, RTE, Bild, NOW TV, CTV, CBS Sports, Ten Play, HD1, 6Play, Big Brother Canada, Arte, ITV, ARD, Food Network, AOL On, BT Sport, Yahoo TV, Netflix, beIN Sports France, NT1, BBC iPlayer, beIN Sports TV, MDR, CBS, Disney XD, Das Erste, ABC News, CBC Player, MTV, Rdio, L\\\'Equipe 21, Discovery UK, Yahoo Sports, beIN Sports MENA, EuroSport UK, Wuaki.tv, Hulu Plus, myTV TVB, NBA League Pass, Now HK, Channel 4, Discovery, Eurosport, Global TV, ABC, TMC, Cherie 25, GyaO!, Zattoo, D17, Magine TV, Bloomberg, Canal +, BBC Sport, The Loop, EuroSport UK, EuroSport Player, ZDF, Amazon Prime Instant Video, NPO, WAT TV, Channel 5, NBA Game Time, NatGeo, TFOU, Sky Sports, RTL Now, Channel 11, Hulu Japan, France TV Pluzz, ESPN, Anime Digital Network, GOTV TVB, Discovery Canada, Sky Go, CBBC, Hulu, My TF1, Alles Kino, D8, Spotify, Amazon Instant Video, ICI TOU.tv, ABC iview, MLB, VidZone
Countries
India, Brazil, Mexico, Thailand, Romania, Hong Kong, Germany, Argentina, Singapore, Ireland, Russia, Norway, Netherlands, Indonesia, Sweden, Iceland, Cyprus, Saudi Arabia, UK, Italy, Egypt, France, USA, New Zealand, Philippines, , Spain, Luxembourg, Japan, Switzerland, Malaysia, Denmark, Canada, Ukraine, Taiwan, Panama, Australia
Specials
Encrypted Private VPN Services
Unblock Geo-Restricted Content
Public Wifi / Hotspot Protection
Global Access to Netflix, Hulu & More
P2P Optimized - Download Privately
OpenVPN, L2TP, & PPTP Support
HTTP, SOCKS5, & DNS Proxy Included
3+ VPN and Proxy Connections Included
No Activity Logs for Any Service
24/7 Customer and Technical Support
7-Day Money Back Guarantee
IronSocket is based in Hong Kong. Being a company that offers both VPN and SmartDNS services, they have been working towards their current form ever since they launched back in 2005. Over a decade, they have built a substantial reputation in the global market. In our IronSocket review, we are going to show you both the advantages and disadvantages of subscribing to one of their plans.

Features
What is singular in the case of IronSocket is the fact that you do not have the option to choose between SmartDNS and VPN services. On the contrary, you get a single plan that covers both needs and therefore you get the benefits of both of them. Regarding SmartDNS, there is the freedom to unblock Netflix, Hulu, as well as more than 80 other channels globally in an instant.
Are you baffled as to whether or not the VPN is more suitable for you to use? Are you for or against SmartDNS? Let's find out more about its use!
SmartDNS
When you make use of the DNS proxy option of your plan, you automatically avoid all kind of encryption. This means that you do not lose any of the acquired speed throughout your Internet connection. This can be of great value, especially when you wish to stream content online and watch your favorite movies and series. In addition, the SmartDNS option is typically more affordable (although in IronSocket it comes within the single plan that covers both VPN and SmartDNS) and is easier to handle.
You can set it up without any delay and enjoy its benefits on all of your devices. Pros and cons of SmartDNS in a nutshell:
Pros
Easy setup of SmartDNS
Fast performance and speed
Low price rates
Full compatibility with OS and devices
Cons
No encryption offered
No online security enhancement
No file sharing
Pricing
Things are really simple in this department. There is a single plan available and the only thing that varies is the total duration of your subscription. Of course, the price is adjusted accordingly. To be more specific, one month of VPN and SmartDNS and all other features costs $6.99. For six months, you will have to pay $35.95 and for a whole year the cost is as low as $49.95.
In the field of payment methods, there is superb flexibility. Not only do they accept credit cards and PayPal, but they also accept Bitcoins – the most secured and practically anonymous method in the market. You can also choose to use gift cards. As for the money refund guarantee, it stretches to a week. No free trial, but you may cancel during your first month risk-free.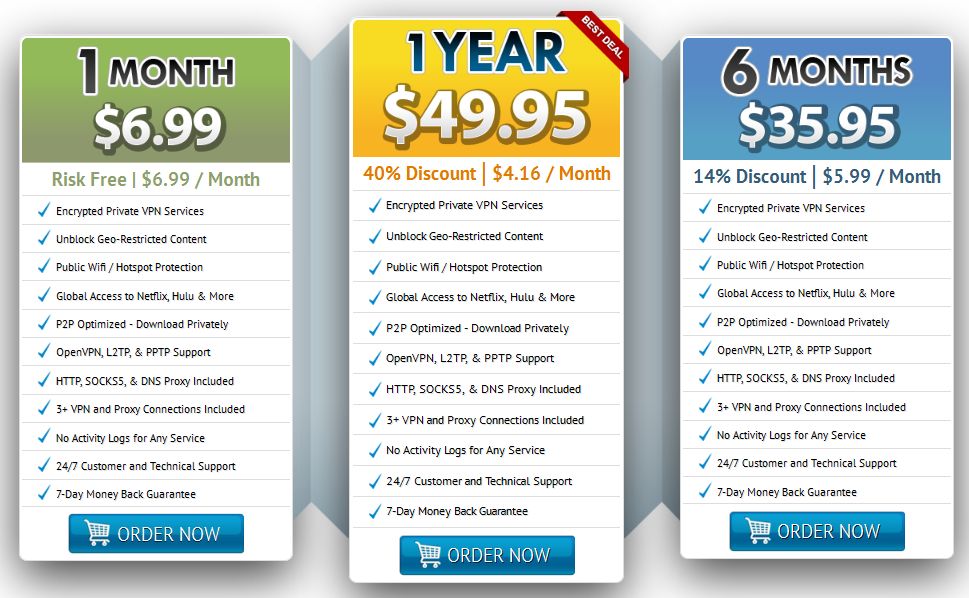 Online Security
IronSocket offers an integrated plan consisting of both DNS and VPN services. That being said, it is safe to state that they take matters in online security seriously. HTTP, SOCKS5, & DNS Proxy are all included, with OpenVPN, L2TP, & PPTP security protocols' support. No traffic or activity logs are kept and the website is of course HTTPS secured. If only SmartDNS services were included, perhaps things would have been different. However, this plan does a great job in strengthening online security.
Do They Support VPN Too?
We have displayed earlier, IronSocket provides a complete plan that does not only include DNS services. Instead, there is a combo of DNS and VPN that lives up to the task and makes the most out of your Internet connection & aim to stream blocked content.
VPN Pricing
There is no extra charge for the VPN services included in the plan. The same details for the plans we have included above apply here, as well. For as little as $4.16 per month, you get the benefits of both VPN and SmartDNS. VPN servers are located in 36 countries.
Help & Support
Now that we have covered the basics in our IronSocket review, it is time for the help and support department. Even though there is no chat available for the clients to get instant feedback, there is a plethora of other alternatives. Once you choose to click support, you may navigate through the getting started guide or the FAQ section, VPN setup or premium channel guide. You may also decide to submit an email to the representatives of IronSocket or read more on the blog of the website. Last but definitely not least, you can contact support on the social media platforms of your preference (Facebook, Twitter or Google+). If chat or a phone number were available, help and support would be impeccable – it is 24/7 for the email submissions, though.
Compatibility
As you might have guessed already, IronSocket plans are compatible with all devices and OS. Whether you are using Windows or Mac OS X, PS3 or PS4, Xbox One or Xbox 360, Wii, Wii U or PS Vita, Smart TVs or iPhones and such, you will get no problem whatsoever during your connection.

Conclusion
From all the things that have been mentioned above throughout our IronSocket review, this is a reliable Hong Kong based company consisting of both VPN and SmartDNS services. The cost for the subscription is pretty low, given the fact that you can enjoy VPN and SmartDNS services for as little as $4.16 per month.
Great payment methods with Bitcoins and a week full money refund guarantee, full compatibility and easy setup add to the value of the product from IronSocket. On the other hand, there is no free trial and there is no option for strictly SmartDNS services. More than that, some users may find it irritating that there is no live chat or phone number in the support department.
No logs are kept, but since this is a VPN including plan, some problems with privacy can occur. All in all, it is a prudent choice to combine SmartDNS and VPN for using the best options every time – still, getting the chance to decide whether you want to use VPN only or SmartDNS only or their combo would be great.
Go to ironsocket.com