IBDNS Review
Specials
15 days money back guarantee
Prices
$4.95 / monthly $19.95 / 6 months $36.95 / 12 months
Offers
1 Month: $ 4.95
6 Months: $ 19.95
12 Months: $ 36.95
Payment
Paypal, Payza, Credit Card, Bitcoin, CashU, Pay by SMS, Perfect Money, WebMoney, Paymentwall
Trial
15 Days Moneyback Guarantee
Devices
PC, Android (iPhone/iPad/iPod – under certain conditions), Mac
Channels
Canal Play, VTele, X Factor, Youtube, FoxNews, SRF Sport, MusiquePlus, RougeFM, TeleQuebec, Univision, BlinkBox, FranceTV, Music Unlimited, Super RTL Now, EuroSport, Slice, GlobalTV, PBS, Spotify, FoxSoccerToGo, Addik, Vudu, American Idol, FranceTV1, Crackle, Hulu, W9, Investigation Discovery, RTLnow, FranceTV2, SeriesPlus, beIN SPORT, TF1, CTV, Songza, RTS un, Sky Go, Wuaki.tv, BBC iPlayer, Radio Canada, Ten, Canal Vie, FranceTVO, M6, Epix, Netflix, DIY, Fox, FranceTV4, VH1, ABC, RTS, Slacker, Global News, ITV, Wilmaa, Discovery World, Vox Now, ABC iView, RTS deux, NBC, MTV, The Simsons, Canal D, LifeTime, Pandora, Hulu Plus, UTV, ZTele, EuroSport Player, Historia TV, Syfy, ZDF, MusicMax, Food Network, Myezrock, Showtime, FranceTV Sport, Canal+, TouTV, iHeart Radio, South Park Studios, Vrak, Aljazeera Sport, Vevo, Encore, Channel 4, MTV, 6ter, Animal Planet, Twitter, Science Channel, 4Music, Facebook, Rdio, HGTV, FranceTV5, Action, Radiorj, Amazon Video, Watchever, Radio.com, 4OD, Starz Play, Crunchyroll, Rhapsody, Discovery Channel, One, AMC, Zatoo, ShowCase, FranceTV3, History, Virgin Radio, Starz, FranceTV Pluzz, CBS, History, ET Canada
Countries
Paraguay, Brasil, Switzerland, Peru, UK, Australia, Netherlands, Saudi Arabia, Bolivia, Argentina, UAE, Iran, Canada, Ecuador, France, Chile, Colombia, Venezuela, Pakistan, USA, Finland, Panama, Iraq, Germany, Uruguay, Mexico
IBVPN is a company based in Romania, having launched its services in 2003. They have been working on securing the online paths for over a decade, with a combination of VPN and Smart DNS services. Since this is in fact the IB DNS review, we are going to focus further on this type of services and see if they live up to the task. So, let's get started!
Features

IBVPN offers a SmartDNS plan that is available in 10 countries. This is ideal for live streaming of content online, with a plethora of unblocked channels and websites in your plate. One user at a time is allowed in this plan and there is no proxy included.
No torrents are allowed, either, and no dynamic IPs can be offered. Other than that, the SmartDNS is fully compatible with all devices and OS you may need to use it on. It is really easy to setup and start using, which makes it a great asset for newbies and non tech literates.
Now, if you are wondering which path to follow (VPN or SmartDNS) and you want some help, here are some interesting details about SmartDNS.
SmartDNS

SmartDNS is a service that does not involve any encryption whatsoever. This automatically means that there is no enhanced layering of online security for you to benefit from. Encryption would mask your IP and allow you to surf the web anonymously, without any problem of being hacked and so on.
On the other hand, SmartDNS leads to no loss of speed or performance standards – since there is no encryption process left to complete. You can use it pretty easily on literally any device or Operating System and the cost is quite low – lower than that of the VPN. In a nutshell, advantages and disadvantages of SmartDNS:
Pros
You can setup without delay
You can benefit from fast speed and great performance
You do not need to pay much
You enjoy full compatibility with OS and devices
Cons
You do not get any encryption
You do not strengthen your online security
You do not enjoy file sharing or torrents
Pricing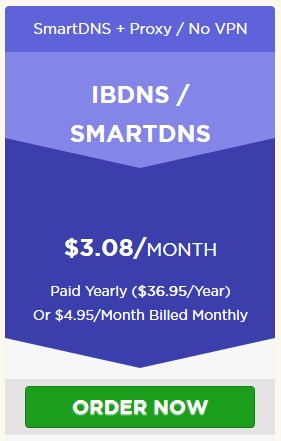 If you choose to use IBDNS, you will be surprised by the low cost you are going to get. In fact, the monthly subscription costs $2.48 and this is about half the average cost for SmartDNS services. Six months are available at $9.97, while the yearly plan is offered at $18.48.
This makes about $1.54 per month and it is the absolute value for money. Now, there is a generous full money refund guarantee provided for a fortnight (14 days, that is). No free trial is offered, which is perfectly understandable given the low price for the monthly subscription.
As for the payment methods, you may use American Express, MasterCard and Visa. In addition, PayPal and Perfect Money, Payza and OKpay, as well as the anonymous Bitcoins, are all acceptable. Great to consider!
Online Security
You already know that SmartDNS does not involve any sort of encryption and this leads to a gap in the online security aspect of the service. Now, the website of IBVPN is Norton secured and HTTPS protected. At their Terms of Service and Privacy Policy, you can see what kind of data they might collect and why. Overall, they are really straightforward about online security and their location (based in Romania) allows them to avoid strict legislation.
Do They Support VPN Too?
IBVPN apparently support VPN, besides SmartDNS. In fact, their main focus is on the combination of those two, with VPN prevailing due to its flexibility and thanks to the thorough protection that it offers. VPN covers all advanced security protocols and other features of VPN service providers. There are several plans that include both VPN and SmartDNS services from IBVPN. Below, we are going to highlight the most important plans available for those who seek to combine the two services.
VPN Pricing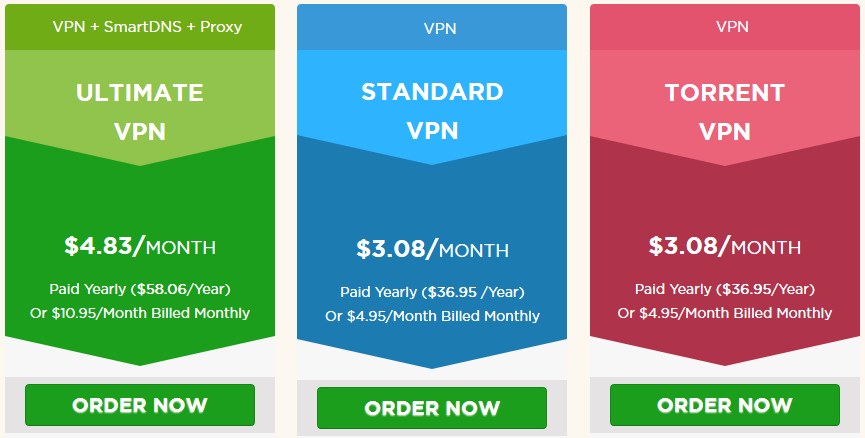 According to the VPN servers you wish to take advantage of and other features like simultaneous users and so on, you may choose to subscribe to the Total Plan at $3.98 per month, $18.48 for six months and $34.97 for a whole year.
Alternatively, the Ultimate Plan is offered at $5.47 monthly, $21.48 for six months and $41.47 for the yearly plan. The refund policy and payment methods are the same as those of the SmartDNS service plans.
Help & Support
One of the most frequently used help and support options for IBVPN is none other than the live chat. This is a direct option for instantly getting to contact support. If the live chat is not available, you are encouraged to submit a ticket.
Then, there is the knowledge base and the FAQ section with valuable pieces of information. Setup guides are also provided to the users, while there is another option that might strike your attention. Indeed, you may schedule a meeting for remote assistance and have everything cleared up in a jiffy.

Compatibility
SmartDNS boasts having absolute compatibility with various devices and Operating Systems. Compatibility for IBVPN could not be the exception. So, depending on the device you wish to use, you are prompted to check the respective setup guide.
Conclusion
Now that we have completed our IB DNS review, it is high time to wrap everything up and see if the services provided live up to the expectations. First of all, we have to outline the low cost of the SmartDNS service plan at about $1.50 for the yearly plan.
Even the combo of VPN and SmartDNS is greatly affordable, comparing to other companies (though the ultimate plan is somewhat more expensive). There is also a generous full money refund guarantee and superb flexibility in the payment options.
The help and support department is rich and versatile, although live chat could become available 24/7 for thorough support and instant feedback. Overall, IBVPN does a great job and its location is another bonus to think of when choosing the company you will subscribe to.
Go to ibvpn.com