HideIPVPN Smart DNS Review
Prices
$4.95 / monthly $12.95 / 3 months $22.95 / 6 months $38.95 / 12 months
Specials
7 days free trial! 3 days money back
Offers
1 Month: $ 4.95
6 Months: $ 22.95
12 Months: $ 38.95
Payment
Bitcoin, Paypal, Google Wallet, Credit Card, Paypro, Debit Card
Trial
3 Days Moneyback Guarantee
Devices
Roku, Apple TV, Windows, Mac, XBOX 360, PS3, SmartTV, iOS Devices, Android
Channels
CN, Lovefilm, Comedy Central, iHeart Radio, BBC, usa, Syfy, redbox instant, Hulu, PBS, blinkbox, Strefa VOD, Crunchyroll, WB, Fox, Game Pass, Rhapsody, CBS, The CW, iplex.pl, NHL, HGTV, MTV, Blockbuster on demand, VOD, Bravo, tv.com, Channel 4, Crackle, Slacker, HBO Go, Cineman, Kinoplex, stv player, Mog, FX, wuaki.tv, itv, CinemaNow, Hulu Plus, food, Vudu, Channel 5, Sky Go, Spotify, Dishworld, TVP.pl, Songza, Drama, NBC, ESPN Player, Vevo, Now TV, Player, Amazon Video, Netflix, turntable, Rdio, ABC Family, Disney, TVland, Lifetime, ABC News, ABC, Pandora
HideIPVPN is a company having launched its services back in 2009. The CEO and founder of the company is Adrian Crismaru and they are currently based in Delaware of the United States. This means that they obviously have to comply with the US legislation, which is understandable. HideIPVPN offers both VPN and SmartDNS services to its subscribers and we will be mainly focusing on the latter. So, let's get started with our HideIPVPN DNS review.
Features
HideIPVPN offers a plethora of channels from the US, Canada, UK and Poland. Of course, all the major channels are included – Netflix, Hulu Plus, Amazon Video on Demand, HBO Go, Pandora, ABC and BBC iPlayer etc. With a simple change of the DNS server, you get to pick the channel of your preference. The plan works on almost all devices, as we will see at the compatibility section of our review. So, this is in fact a great option for you to unblock channels and livestream.
Well, since both the terms of VPN and DNS are offered by the company of HideIPVPN, isn't it time to figure out what each option actually means? Are you aware of the distinctive characteristics of SmartDNS?
SmartDNS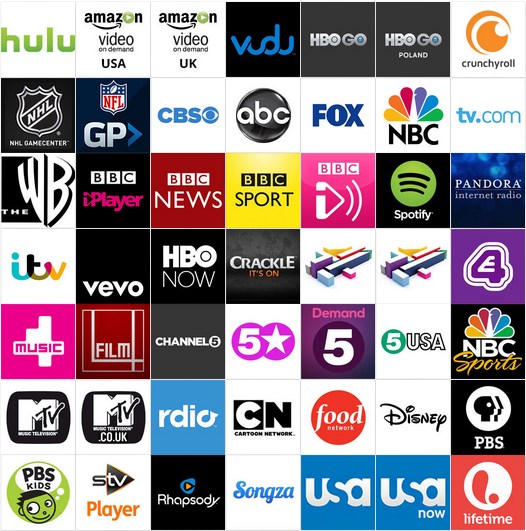 If you get to pick SmartDNS, you ought to know that there is no encryption involved in the service – unlike VPN. The major advantage of encryption is the fact that it enables you to fully protect your Internet connection against hacking attempts and other threats. However, the encryption usually leads to certain loss of speed and this is perfectly justifiable.
In the case of SmartDNS, though, there is no loss of speed or quality of performance. What is more, SmartDNS is easy to setup and can be used on almost all devices and OS. Last but not least, the cost is significantly lower than that of VPN. To wrap things up, pros and cons of SmartDNS are the following:

Pros
It is easy to setup
It is fast and reliable
It costs lower than the VPN
It is compatible with most devices and OS
Cons
It does not involve encryption
It does not boost online security
It does not include file sharing options
Pricing
When it comes to the pricing of HideIPVPN DNS service, things are pretty much straightforward. There is a free trial stretching to a whole week and after that you get to pay $4.95 per month for your subscription. This is the average cost for DNS service, not too much, not too little.
Three months are offered at $12.95, while the yearly plan comes at $38.95. This is the best value for money and you must have noticed that there is no semi-annual plan. This happens due to the fact that the cost is low for the year's subscription and so there is no such need. As for the full money refund guarantee, you get a whole month!

Multiple payment methods are acceptable for subscribing to HideIPVPN, including PayPal and Bitcoin, credit cards and AliPay, WebMoney, Yandex, Qiwi and Boleto Bancario. Apparently, Bitcoin is the payment method that allows full anonymity and is great to be included in your options.
Online Security
SmartDNS services cannot boast their enhanced online security layering. So, HideIPVPN DNS does not add to your online protection – there is the VPN service that does all that. Other than that, their website is HTTPS protected and there is clear statement as to the pieces of information they might collect. You should read through their Privacy Policy and Terms of Use for further details.
Do They Support VPN Too?
HideIPVPN supports VPN services too, as you might have guessed from their name and logo. From their site, we quote the following: "Servers in the United States, United Kingdom, Netherlands, Germany, Canada, Poland and France. No Logs. Dns Leak protection. Free VPN software – easy to setup & use. Fast & secure P2P VPN." According to the origin of the VPN servers you wish to use, there are plans to subscribe to. Last but not least, there is a plan that combines VPN and SmartDNS services.
VPN Pricing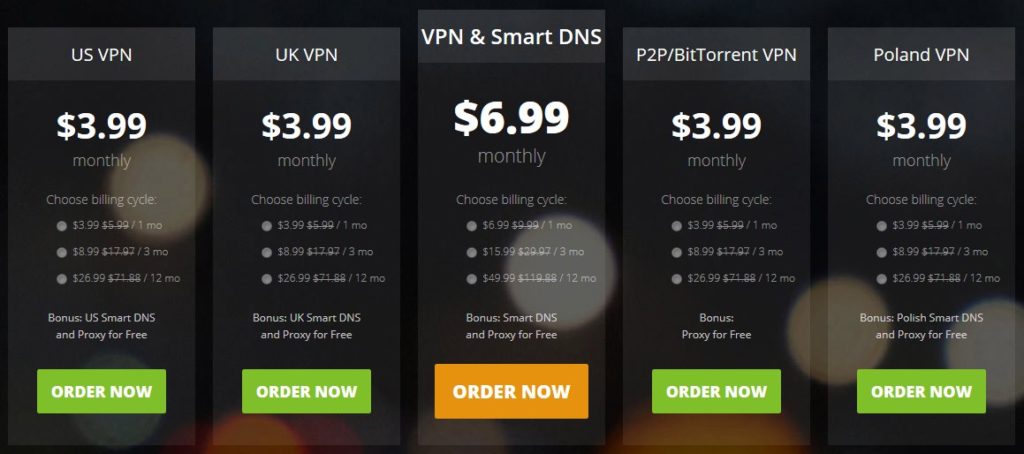 As we have outlined above, there are several VPN plans to choose from (with US, UK or Poland servers) and a combo of VPN and DNS services. The ultimate value for money is indeed that for the combo, coming at $9.99 per month or $83.99 per year. It is worth mentioning that the free trial is only available for 24 hours. This could be lengthier, of course. There is, however, the option of buying a second package at 50% discount and this can work for friends, colleagues etc.
Help & Support
Moving on with our HideIPVPN DNS review, it is time for the help and support aspect. There are informative topics on every single question you may have, at their knowledge base. The FAQ section is quite detailed and there are setup guides for you to read through.
Whether you are a client or not, you are encouraged from the company to submit a ticket on the site. In this way, you get a response from the representatives as soon as possible. Live chat would be a great addition, though. Finally, we ought to mention the blog of HideIPVPN, which is another alternative for learning stuff on SmartDNS and VPN.
Compatibility
As all SmartDNS services, there is full compatibility with almost any device or Operating System. We found no problem whatsoever, as we have been trying the service on various devices.
Conclusion
Having finished our HideIPVPN DNS review, it is time to conclude as to its overall value. Firstly, this is not the cheapest DNS service provider we have encountered and the same goes for VPN plans, too. Apart from that, the free trial and full money refund guarantee for the SmartDNS service are both great and there is huge flexibility in the payment methods accepted.
The company is currently in the US and this might cause privacy issues. So, if you seek full anonymity and no logs kept under any circumstances, perhaps you will get disappointed. Apart from all that, the SmartDNS service is pretty fast and absolutely reliable, easy to use and compatible with all devices and OS.
Go to hideipvpn.com