Blockless Smart DNS Review
Trial
Restricted Free Version
Offers
1 Month: $ 4.95
6 Months: $ 27.25
12 Months: $ 49.95
Prices
$4.95 / monthly $27.25 / 6 months $49.95 / 12 months
Channels
SyFy, Bravo TV, Twitter, Adult Swim, Biography, Crackle, CWTV, Google, The Colbert Report, Travel Channel, Facebook, Channel 4, BBC iPlayer, NBC, ABC Family, ABC News, WB, A&E, Nickelodeon, DIY Network, Netflix, GAC TV, myLifetime, Southpark Studios, Spike TV, PBS, USA Network, Front Door, Oxygen, Hulu, Fox, TBS, TVLand, Cooking Channel, MTV, Food Network, HGTV, iTV, Pandora, Comedy Central, The Daily Show, CBS, History, VH1 and more
Countries
USA, UK, Canada, Germany, Austria, France, Sweden, Switzerland, Denmark, Norway, Finland, Netherlands, Ireland, Brazil, Panama, Argentina, Mexico
Devices
Windows, Mac, iPhone, iPad, Android
Specials
Restricted Free Version
Payment
Credit Card, Paypal
Located in Canada, Blockless SmartDNS is a company aiming at providing a solution to those who seek to unblock geographically restricted channels. Although it does not offer pure VPN solutions too, it does provide a SmartVPN alternative when you are on the go. We will see more about that in our Blockless SmartDNS review, which we are ready to begin!
Features
Unblocked channels are what you get from using Blockless SmartDNS. In fact, there are hundreds of channels that you can unblock from various countries with this application.

Just to mention a few of the countries, there is the US and the UK (major hubs for entertainment and with a plethora of channels worthy of unblocking), Canada and Germany, France and Italy. Of course, this does not complete the list, but you get a glimpse. When you are on the go (like travelling a lot), there is the alternative of SmartVPN for you to benefit from (with PPTP security protocol).
Now, if you do not know exactly if the SmartDNS is the best option for you or if you should go for the plain VPN solution, read more about SmartDNS right below!
SmartDNS
With SmartDNS, you get to unblock a plethora of channels worldwide, without involving any type of encryption whatsoever. This automatically rejects any enhancement in your online security (since it is the encryption that allows you to surf the web risk-free). On the other hand, though, there is an advantage in not using encryption.
Indeed, you do not lose any speed due to the encryption and the performance of the live streaming is great. Additionally, SmartDNS is easy to setup and use, as well as compatible with most devices and OS. Let alone the fact that it is less expensive than VPNs. So, to wrap things up, the SmartDNS offers the following:
Pros
It is easy to setup and use
It is fast, without any loss of speed
It costs lower than the VPN plans
It is fully compatible
Cons
It does not include encryption
It does not add to your online security
It does not include file sharing options
Pricing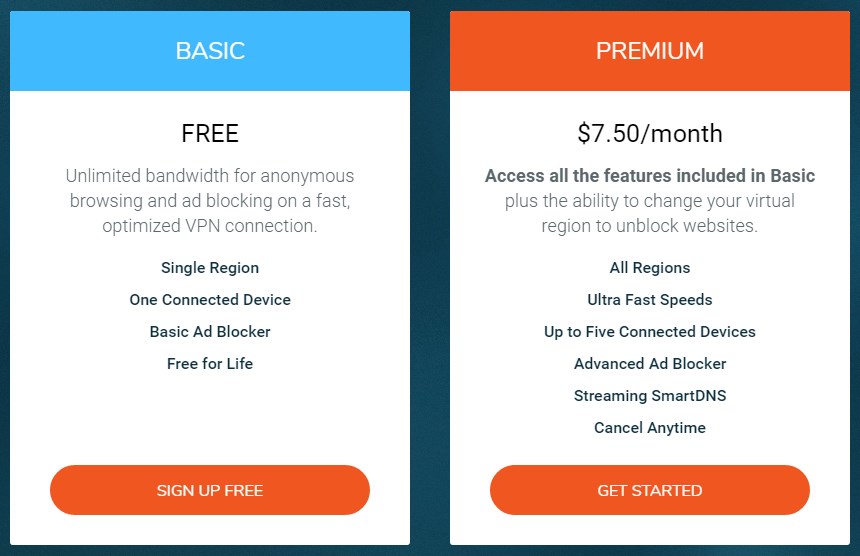 Moving on with our Blockless SmartDNS review, pricing is really simple and straightforward. There are three plans for you to choose from, depending on the actual duration of the subscription. The monthly plan is available at $4.95, which is in fact the average cost of DNS services.
Six months will cost you $27.25 and a discount of 7%. The annual plan is offered at $49.95 and 16% off the initial price. We have seen more affordable plans, it is true – but it is still inexpensive. As for a free trial, it extends to a whole week and there is no credit card requirement for that. No money refund guarantee is offered, sadly.
The accepted payment methods from Blockless SmartDNS are not that many, but they include credit cards and PayPal. Bitcoin is not acceptable, which is a pity. This is the sheer anonymous payment option, after all.
Online Security
SmartDNS cannot boast enhancing online security, as we have outlined earlier. Still, there is the SmartVPN feature for the subscribers of Blockless SmartDNS. Even in the case of not being able to use the DNS service, there is the SmartVPN option (with PPTP protocol, but an added bonus) to consider.
Other than that, the website is HTTPS protected and there are details as to what information they may collect clearly stated in their Privacy Policy and Terms of Use. Nothing shady in this aspect of their service!
Do They Support VPN Too?
Apart from the SmartVPN feature that is offered to the subscribers of Blockless SmartDNS plan, when they cannot do otherwise, VPN is not supported from Blockless DNS. This is a shame, as both these services could be combined and offer the best protection and convenience to the user.
VPN Pricing
No separate plan for VPN users is offered by Blockless SmartDNS. So, the cost for the plans has been outlined above at the respective section of our review.
Help & Support
When it comes to help and support, Blockless SmartDNS is laconic and does not provide great flexibility. Unlike some of the other companies in the same field, they do not offer the opportunity to talk directly to the representatives of Blockless SmartDNS via live chat.
Instead, there is the option of emailing them and getting a response as soon as possible (we have tried that and the feedback has been prompt, we admit it). Apart from that, you can read through their knowledge base and FAQ section. There is a blog, too, where you can learn more about DNS and other technological topics. That's about it! Oh, it is worth mentioning that they have got a rather impressive presence on Twitter, for those who enjoy social media.
Compatibility
Like all DNS services, Blockless SmartDNS has got full compatibility with all devices and Operating Systems. For a complete list of the devices supported by Blockless SmartDNS, you can click here.
Conclusion
We have finished our Blockless SmartDNS review and it is time for the conclusions that we have reached to. First of all, it is worth stating that there is some improvement needed in the payment methods (which are limited, just credit cards and PayPal) and the money refund guarantee (which is non-existent).
In addition, the help and support could do great with the addition of live chat or a phone number or even a ticket submitting system with instant feedback. Other than that, the cost of Blockless SmartDNS is the average of the market, at $4.95 per month and with slight discounts for longer commitments.
The feature of SmartVPN is a welcome bonus, when it is not possible to use DNS – like when you are travelling. However, it is worth noting that they use PPTP protocol for the encryption. All in all, this Canadian company offers quite interesting services for unblocking channels, but could use some improvements.
Go to blockless.com